This webcast has been archived. To view the webcast login into your SANS Portal Account or create an account by clicking the "Get Registered" button on the right. Once you register, you can download the presentation slides below.
SANS Federal Government Cyber Security Briefing: How to Avoid Being the Next Agency to Announce a Major Breach
Friday, November 18, 2016 at 8:25 AM EST (2016-11-18 13:25:00 UTC)
Please Check Back
Sponsors
You can now attend the webcast using your mobile device!


Overview
In the DC area? Attend in Person!
Join the SANS Institute as we bring the SANS Federal Government Cyber Security Briefing to the Federal Community in the DC area.
A recent GAO report highlighted the rapid growth of security incidents occurring at Government agencies: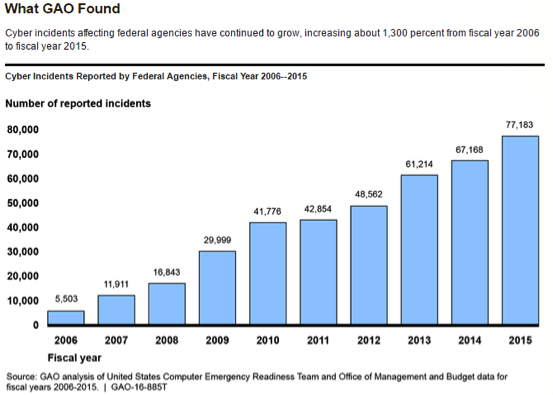 Yet, there are government agencies that are actually reducing the impact of cyber-attacks on their organizations, preventing more attacks, detecting successful intrusions more rapidly and restoring operations with less disruption to the agency mission. These agencies have succeeded in developing processes, deploying security controls technology and applying skill staff to demonstrate real advances in overall cybersecurity levels.
The 1/2day SANS Government Security Vendor Briefing will bring together the government security community and leading security technology and services solution providers to hear case studies of approaches that resulted in measurable increases in the effectiveness and efficiency of government cybersecurity programs.
Agenda:
Friday, November 18, 2016
8:00am - 8:30am: Registration & Coffee Networking
8:30am - 8:45am: Welcome/Opening Remarks: Welcome/Opening Remarks: The Federal Government has made significant progress in improving its cybersecurity capabilities, driven in large measure by the results of the OPM intrusion, through activities as the Cyber Sprint, Binding Operational Directives, the Cybersecurity National Action Plan, and the Cybersecurity Act of 2015 and associated programs as CDM, EINSTEIN, AIS and HVAs. In this session each of these driving and resulting changes will be discussed from a current influence, and potential significance in setting the stage for Cybersecurity for the next Administration. - John Pescatore, SANS Director Emerging Security Trends
8:45am - 9:30am: DHS Perspective: Increasing Federal Cybersecurity With CDM and Einstein - Mark Kneidinger, Director Federal Network Resiliency Division, DHS
9:30am - 10:15am: IBM - Jeff Schafer Consultant IBM BigFix, IBM Security
10:15am - 10:45am: Newtworking Break
10:45am - 11:30am: Chaos, Complexity, & Other Current Conundrums--Artificial Intelligence Real Threat Prevention - If our Security World is to advance, we need to adopt a new paradigm, a new way of thinking, no less dramatic than that which Copernicus and Galileo exacted of their Ptolemaic predecessors. The classic deficiencies of Reactive Detection need no longer be tolerated as the predictive prowess of AI and its Proactive Prevention dawns on our world. -- John McClurg, VP CISO Office, Information Security, Cylance
11:30am - 12:00pm: Panel Discussion - Future Trends - SANS Director will moderate a panel discussion on the key threat, business and technology trends that will impact government security programs.
12:00pm - 12:15pm: Closing Remarks - John Pescatore 
12:15pm - 1:30pm: Networking Lunch
Bios:
Mark Kneidinger - Mark Kneidinger is the Director of the Federal Network Resilience (FNR) Division, within the Department of Homeland Security's Office of Cybersecurity & Communications. In this position, Mr. Kneidinger leads FNR's activity in developing innovative approaches to drive change in cybersecurity risk management across the federal government working in collaboration with OMB, the CIO Council and individual agency CISOs. Prior to joining DHS, Mr. Kneidinger held leadership positions in the commercial sector, including as Vice President and Managing Partner. Mr. Kneidinger has further held Chief Information Officer (CIO) positions in New York and Virginia as well as served as a White House appointee in the position of Deputy Assistant Administrator and CIO for the U.S. Agency for International Development (USAID).
Need Help? Visit our FAQ page or email webcast-support@sans.org.
Not able to attend a SANS webcast? All Webcasts are archived so you may view and listen at a time convenient to your schedule. View our webcast archive and access webcast recordings/PDF slides.