This webcast has been archived. To view the webcast login into your SANS Portal Account or create an account by clicking the "Get Registered" button on the right. Once you register, you can download the presentation slides below.
(Am)Cache rules everything around me
Friday, June 03, 2016 at 1:00 PM EST (2016-06-03 17:00:00 UTC)
Eric Zimmerman
You can now attend the webcast using your mobile device!


Overview
Amcache is a valuable artifact for forensic examiners as it contains a wealth of information related to evidence of execution of programs including installed applications and other executables which have been run on a computer, the SHA-1 value of the program, and several time stamps of interest including last modified time as well as the first time a program was run. By understanding the data available in the Amcache hive, examiners will be able to build better timelines, create whitelists and blacklists of programs to exclude or look for on other systems, and quickly find outliers in the vast amount of data contained in Amcache hives. People attending this session will come away with an understanding of how data is structured and interrelated in the different parts of an Amcache hive and be provided free, open source tools that can process these hives quickly and efficiently.
---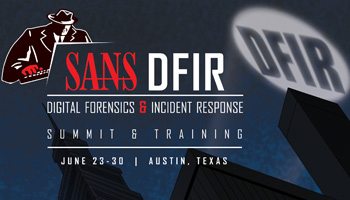 FOR518 Mac Forensics
Summit Dates: June 23-24
Training Course Dates: June 25-30
DFIR NetWars: June 27-28
For more Information or to register visit: sans.org/dfirsummit
SANS Annual DFIR Summit is the only event of its kind that gathers the most influential group of experts, the highest quality of training & the greatest opportunities to network with others in the field of Digital Forensics & Incident Response, all in one place! Attend the DFIR Summit and gain the investigative skills you need and the ones you never knew you needed.
---

Speaker Bio
Eric Zimmerman
Eric Zimmerman is a senior director in Kroll's Cyber Security and Investigations practice. Eric has a tremendous depth and breadth of expertise in the cyber realm, spanning complex law enforcement investigations, computer forensics, expert witness testimony, computer systems design and application architecture. He has received numerous recognitions for his work, is an award-winning author and is a frequently sought-after instructor and presenter on cyber-related topics.
Before joining Kroll, Eric was a Special Agent with the Federal Bureau of Investigation (FBI), specializing in investigating criminal and national security-related computer intrusions, crimes against children (production, distribution and possession of child pornography), intellectual property theft and related crimes.
During his tenure with the FBI, Eric wrote over 50 programs that include forensic utilities and response tools that today are in use by nearly 8,800 law enforcement officers in 82 countries. Among the programs that Eric developed are technical tools that enable law enforcement officers combat the online sexual exploitation of children; in one year alone, these tools led to the rescue of at least 200 children. The FBI and many international law enforcement agencies have adopted Eric's tools as mandatory protocol for certain investigations.
In May 2012, Eric's contributions were recognized with a National Center for Missing and Exploited Children's Award, which honors outstanding law enforcement professionals who have performed above and beyond the call of duty in safely recovering a missing child or successfully resolving a complex child sexual exploitation investigation. Eric was also presented with the U.S. Attorney Award for Excellence in Law Enforcement in 2013.
Over the course of his career, Eric has led or participated in a wide range of cyber-focused classes, seminars and conferences. He is a two-time winner of the SANS DFIR NetWars Tournament (2015, 2014). In addition to his many speaking engagements, Eric is the co-author of 'X-Ways Forensics Practitioner's Guide,' which was a Forensic 4Cast 2014 Digital Forensics Book of the Year winner.
Before joining the FBI, Eric was a systems administrator for Menlo Logistics, a global supply chain company whose core business offerings include third-party logistics and supply chain management.
Need Help? Visit our FAQ page or email webcast-support@sans.org.
Not able to attend a SANS webcast? All Webcasts are archived so you may view and listen at a time convenient to your schedule. View our webcast archive and access webcast recordings/PDF slides.