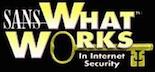 A powerful marketing tool showcasing your security product, this testimonial interview is a great way to gain exposure with the SANS security community. SANS expert, John Pescatore, leads the interview with your end-user/customer to develop a written case study, webcast, and a variety of complementary sponsorship and branding opportunities. WhatWorks is an exceptional chance to connect with the trusted SANS brand and a phenomenal generator of highly qualified leads.
WhatWorks case studies accelerate the buying process by telling the story from an end-user's perspective.
Why did the customer deploy the product? How does the product work? How has it improved the customer's security? Having a valid assessment of the product with a success story to compliment, security vendors position their product and brand to the SANS community as a trusted leader in the cyber security industry.
What's Included:
Q&A with a customer in a live WhatWorks webcast
Written case study
Use of SANS WhatWorks program logo and information in marketing
Leads from all opt-in listeners to live and archived webcasts
SANS independence and branding
Exclusive sponsorship opportunities at SANS conference events
Check out recent SANS WhatWorks case studies:
Case Studies
| | | |
| --- | --- | --- |
| What Works in Visibility, Access Control and IOT Security - Pulse Secure NAC Outcomes at Energy Provider | Pulse Secure | June 14, 2018 |
| What Works in Situational Awareness and Visibility: Reducing Time to Detect and Enhancing Business Outcomes with Splunk | Splunk | May 15, 2017 |
| Using Cisco Stealthwatch to Increase Security By Enhancing Critical Security Control Performance | Cisco | January 9, 2017 |
| A Credit Union Increased Network Security With Network Access Control Based on Great Bay Software Beacon | Great Bay Software | August 4, 2016 |
| What Works in Threat Prevention: Detecting and Stopping Attacks More Accurately and Quickly with ThreatSTOP | ThreatSTOP | May 16, 2016 |
| Inspecting Encrypted Traffic with the Blue Coat SSL Visibility Appliance | Blue Coat | Mar. 23, 2016 |
| What Works in Supply Chain and Partner Security: Using BitSight to Assess and Monitor Third-Party Cybersecurity | BitSight | Nov. 7, 2015 |
| Using WhiteHat Sentinel Dynamic and Static Solutions to Increase Application Security Before and After Production Deployment | WhiteHat Security | Oct. 9, 2015 |
| Lifecycle Vulnerability Management and Continuous Monitoring with Rapid7 Nexpose | Rapid7 | Sept. 15, 2015 |
| Using Palo Alto Networks Next Generation Firewalls to Increase Visibility into Threats and Reduce Threat Risks | Palo Alto Networks | May 19, 2015 |
| Blocking Complex Malware Threats at Boston Financial | Invincea | Mar. 27, 2015 |
| Increasing Security and Reducing Costs by Managing Administrator Rights with Process-based Privilege Management | Viewfinity | Mar. 27, 2015 |
| Reaping the Benefits of Continuous Monitoring and Mitigation at Pioneer Investments | ForeScout | Mar. 27, 2015 |
| How VCU uses FireEye for Advanced Threat Detection and Prevention | FireEye | Mar. 10, 2015 |
| Increasing Vulnerability Management Effectiveness While Reducing Cost | Tenable | Feb. 19, 2015 |