SANS 2017 Sponsorship Opportunities
Click on the image below to check out an overview of SANS 2017 Sponsorship Opportunities and how you can get exposure with our security community!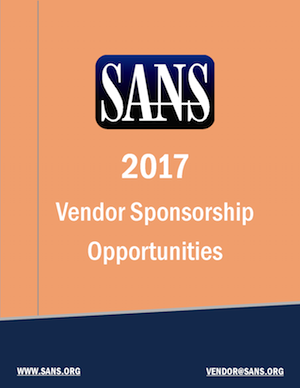 To download a PDF version click here
---
SANS National and Regional Conferences are renowned among information security professionals as the most trusted place to received education, training, and certification. These events provide security vendors with the opportunity to connect directly with attendees, showcasing their products/services to an audience with purchasing authority and influence and generate valuable leads.
Connect with an attendee by exhibiting at the conference Vendor Expo. Host a lunch & learn session with a focused audience. These are just a few of the many ways vendor sponsors can get involved at a SANS event.
SANS National & Regional Conferences
| Event | Location | Date | Expected Paid Attendance |
| --- | --- | --- | --- |
Additional SANS Events
Tabletop Events- Held in conjunction with SANS training conferences, these one day Regional and Local events targeted to a specific geography. SANS also offers International Tabletop events.
Summit Series - 2 day events focused on a single current topic. Summit speakers are leading topic experts, customers as well as vendor speakers.
Community SANS - These events feature the most popular SANS courses taught in a small class-room setting. These events provide an opportunity to reach a specific SANS community.
Print and Media Programs
SANS Research Program
The SANS Analyst Whitepaper program and supporting webcast feature SANS experts working with you to create whitepapers with a powerful, independent voice in the market. Papers are published on the SANS website and include a pre-publicized webcast. Whitepapers cover a range of topics: market pain points, how-to help, security issues, product issues, technology tests and comparisons, SANS independent surveys, checklists and more.
---
SANS Security Webcasts
Present your company's product or service in front of thousands of targeted listeners with a SANS Security Webcast. SANS webcasts are marketed to all 235,000 opt-in subscribers of NewsBites and are also promoted via the SANS Web site, visited by 17,000 security professionals daily. Webcast options include Ask the Expert with a SANS certified expert, ToolTalk specific to your product specific, Internet Storm Center (ISC) a high-impact monthly webcast discussing the most recent threats, new software vulnerabilities or system exposures or a Custom Webcast meeting your specific needs and plans.
---
Reading Room Whitepaper
Post your own technical whitepaper in this special Security Reading Room, visited by 35,000 security professionals weekly, who use in excess of 2,000 unique, peer reviewed information security reports. Dozens of report categories are represented. Vendors may post technical whitepapers in the Security Reading Room. Vendor submitted whitepapers are marked with a special icon and also state that these papers have been reviewed and approved by SANS. Your whitepaper will remain in the Reading Room for one full year.
---
SANS Website Banner Ads & Brochure Ads
Online advertising via the SANS website can direct thousands of qualified prospects to your brand and special offer messages. This is one of the most popular SANS features and one of the most trafficked pages in the entire security industry. With a circulation of approximately 400,000 an ad in a SANS conference brochure is one of the most effective print media products in the marketplace.
---
SANS WhatWorks™ Program
Showcase your most powerful customer stories with the SANS independence, research, and distribution capabilities. to provide valuable reference information to CIOs and security managers looking to make a purchase. Clients of this program receive a case study, webcast, 6 to 12 months on printed poster and 6 to 12 months on the online poster. Also, you can use the case study in your marketing programs (along with the SANS WhatWorks TM logo) for 6 to 12 months in accordance with SANS specifications.
---
WhatWorks™ Poster Ad
Each year, two custom research posters (Spring and Fall) are sent to more than 200,000 SANS community members. On one side of the poster, WhatWorks sponsors can purchase ads; on the other side, other security vendors can buy advertising space. SANS will mail copies of the poster and SANS event brochure to 2,500 additional vendor customers and prospects.
---
Newsletters
SANS offers two online email newsletters reaching a combined opt-in readership of over 329,000 security focused professionals.
SANS NewsBites - (207,000 opt-in readers) is a semiweekly high-level executive summary of the most important news articles that have been published on computer security during the last week. Each news item is very briefly summarized and includes a reference on the web for detailed information, if possible. Archive versions see an additional 15K-50K views each month.
SANS @Risk - (122,000 opt-in readers) is a reliable weekly summary of newly discovered attack vectors, vulnerabilities with active new exploits, insightful explanations of how recent attacks worked, and other valuable data. A key purpose of the @RISK is to provide the data that will ensure that the Critical Security Controls continue to be the most effective defenses for all known attack vectors.
For information on how to place an ad in SANS newsletters and connect with our growing security community, email vendor@sans.org.
---
SANS Thought Leadership Interview Series
Thought Leadership interviews carry the weight of SANS' reputation and visionary leadership. With focus on a wide range of current and emerging security technology trends and directions, communicate your organization's vision and differentiation in a crowded market.