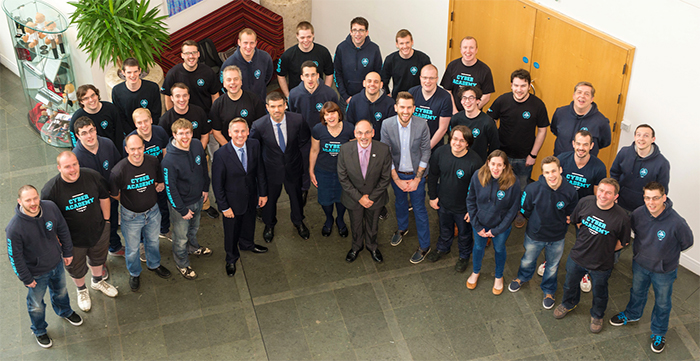 Created by SANS Institute to address IT security's skills gap, Cyber Academy is a residential cyber security training programme. After intensive cyber security training and 3 GIAC assessments, 30 students graduated from SANS Cyber Academy 2015.
Cyber Academy 2015 began with a talent assessment phase. Potential Cyber Academy students were invited to take SANS' CyberTalent Aptitude and Skills Assessment.
The Assessments were web-based and designed to accurately identify candidates who possess the technical and conceptual aptitudes displayed by successful cyber security professionals.
In 2015, approximately 25,000 individuals took the online Assessment. From that pool, around 250 suitable candidates were selected for a round of face to face interviews with senior SANS Instructors and staff.
Cyber Academy's syllabus is always taught by SANS Instructors - respected and active security professionals who specialise in distinct information security spheres.
Cyber Academy 2015
Graduates developed skills and knowledge across many core cyber security disciplines including:
Technology fundamentals
Security essentials
Enterprise infrastructures
OS Security - building and securing Linux and Windows environments
Virtualisation and cloud security
Compliance and audit
Incident response
Penetration testing and ethical hacking
Forensics and incident response
Secure software development
Management
Across these competencies, Graduates received classroom lectures from SANS Instructors, hands-on lab exercises, incident simulations and practical challenges.
Instructors who taught in Cyber Academy 2015 Include:

James
Lyne

Steve Armstrong

Ted Demopoulos

Christian Prickaerts
---
Graduates GIAC Examination Results
Cyber Academy 2015 Graduates prepared for, sat and passed three GIAC Certification examinations.
Academy 2015 Graduates ranked within the top 10% of all GIAC Certification attempts.
Graduates scoring over 95% ranked within the top 5% of all GIAC Certification attempts.
2015 Graduates' GSEC Results

100% pass rate of GSEC
91.2% average class score
2/3rds of class > 90%
39% of class > 95%
98% Highest Score
2015 Graduates' GCIH Results

30 Graduates passed first time
90.2% average class score
2/3rds of class > 90%
25% of class >95%
98% Highest Score
2015 Graduates' GCFE Results

30 Graduates passed first time
87% Class average
97% Highest score
35% of class > 90%
---
Hack The Drone Training Day
Cyber Academy believes in hands-on cyber security training. 2015 Graduates experienced capture the flag exercises and honed their skills using SANS NetWars platform.
The Hack The Drone challenge saw students test their offensive cyber skills. Graduates methodically hunted for exploitable vulnerabilities in a drone's communication systems. Once these vulnerabilities had been scoped, Graduates subverted them and seized control of the device.
---
Meet Cyber Academy 2015 Graduates
Cyber Academy Graduates came from a wide variety of professional and academic backgrounds.
This wide spectrum of experience, coupled with their skillset validated through GIAC Certification, provided employers with flexibility.
Graduates of Cyber Academy 2015 secured posts across: Digital forensics, penetration testing, security research and product security testing.
---
Cyber Academy 2016
Cyber Academy 2016 follows 2015's proven process and methodology.
Employers can begin discussions with SANS about recruiting a Cyber Academy 2016 graduate at any time. Please email cyberacademy@sans.org.