SEC401: Security Essentials Bootcamp Style
Excellent material for security professionals wanting a deeper level of knowledge on how to implement security policies, procedures, and defensive mechanisms in an organization.

Great course for people starting into security essentials.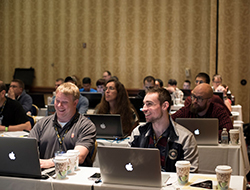 Learn the most effective steps to prevent attacks and detect adversaries with actionable techniques that you can directly apply when you get back to work. Learn tips and tricks from the experts so that you can win the battle against the wide range of cyber adversaries that want to harm your environment.
Is SEC401: Security Essentials Bootcamp Style the right course for you?
STOP and ask yourself the following questions:
Do you fully understand why some organizations get compromised and others do not?
If there were compromised systems on your network, are you confident that you would be able to find them?
Do you know the effectiveness of each security device and are you certain that they are all configured correctly?
Are proper security metrics set up and communicated to your executives to drive security decisions?
If you do not know the answers to these questions, SEC401 course will provide the information security training you need in a bootcamp-style format that is reinforced with hands-on labs.
You Will Learn:
To develop effective security metrics that provide a focused playbook that IT can implement, auditors can validate, and executives can understand
To analyze and assess the risk to your environment in order to drive the creation of a security roadmap that focuses on the right areas of security
Practical tips and tricks to focus in on high-priority security problems within your organization and on doing the right things that will lead to security solutions that work
Why some organizations are winning and some are losing when it comes to security and, most importantly, how to be on the winning side
The core areas of security and how to create a security program that is anchored on PREVENT-DETECT-RESPOND.
Learn to build a security roadmap that can scale today and into the future.
SEC401: Security Essentials Bootcamp Style is focused on teaching you the essential information security skills and techniques you need to protect and secure your organization's critical information assets and business systems. Our course will show you how to prevent your organization's security problems from being headline news in the Wall Street Journal!
"Prevention is Ideal but Detection is a Must."
With the rise in advanced persistent threats, it is almost inevitable that organizations will be targeted. Whether the attacker is successful in penetrating an organization's network depends on the effectiveness of the organization's defense. Defending against attacks is an ongoing challenge, with new threats emerging all of the time, including the next generation of threats. Organizations need to understand what really works in cybersecurity. What has worked, and will always work, is taking a risk-based approach to cyber defense. Before your organization spends a dollar of its IT budget or allocates any resources or time to anything in the name of cybersecurity, three questions must be answered:
What is the risk?
Is it the highest priority risk?
What is the most cost-effective way to reduce the risk?
Security is all about making sure you focus on the right areas of defense. In SEC401 you will learn the language and underlying theory of computer and information security. You will gain the essential and effective security knowledge you will need if you are given the responsibility for securing systems and/or organizations. This course meets both of the key promises SANS makes to our students: (1) You will learn up-to-the-minute skills you can put into practice immediately upon returning to work; and (2) You will be taught by the best security instructors in the industry.
Notice:
This course prepares you for the GSEC certification that meets the requirement of the DoD 8570 IAT Level 2.
Course Content Overlap Notice:
Please note that some course material for SEC401 and MGT512 may overlap. We recommend SEC401 for those interested in a more technical course of study, and MGT512 for those primarily interested in a leadership-oriented but less technical learning experience.
Course Syllabus
SEC401.1: Networking Concepts
Overview
A key way that attackers gain access to a company's resources is through a network connected to the Internet. A company wants to try to prevent as many attacks as possible, but in cases where it cannot prevent an attack, it must detect it in a timely manner. Therefore, an understanding of how networks and the related protocols like TCP/IP work is critical to being able to analyze network traffic and determine what is hostile. It is just as important to know how to protect against these attacks using devices such as routers and firewalls. These essentials, and more, will be covered during this course day in order to provide a firm foundation for the consecutive days of training.
Topics
Setting Up a Lab with Virtual Machines
Use
Implementation
Security
Network Fundamentals
Network types (LANs, WANs)
Network topologies
LAN protocols
WAN protocols
Network devices
IP Concepts
Packets and addresses
IP service ports
IP protocols
TCP
UDP
ICMP
DNS
IP Behavior
TCP dump
Recognizing and understanding
UDP
ICMP
UDP behavior
Virtual Machines
Use
Implementation
Security
SEC401.2: Defense In-Depth
Overview
To secure an enterprise network, you must have an understanding of the general principles of network security. In this course, you will learn about six key areas of network security. The day starts with information assurance foundations. Students look at both current and historical computer security threats, and how they have impacted confidentiality, integrity, and availability. The first half of the day also covers creating sound security policies and password management, including tools for password strength on both Unix and Windows platforms. The second half of the day is spent on understanding the information warfare threat and the six steps of incident handling. The day draws to a close by looking at attack strategies and how the offense operates.
Topics
Information Assurance Foundations
Defense in-depth
Confidentiality, integrity, and availability
Risk model
Authentication vs. authorization
Vulnerabilities
Defense in-depth
Computer Security Policies
Elements when well written
How policies serve as insurance
Roles and responsibilities
Contingency and Continuity Planning
Business continuity planning (BCP)
Disaster recovery planning (DRP)
Business impact analysis
Access Control
Data classification
Authentication, authorization, accountability (AAA)
MAC and DAC
Password Management
Password cracking for Windows and Unix
Alternate forms of authentication (tokens, biometrics)
Single sign-on and RADIUS
Incident Response (IR)
Preparation, identification, and containment
Eradication, recovery, and lessons learned
Investigation techniques and computer crime
Legal issues associated with IR
Offensive and Defensive Information Warfare (IW)
Types of IW
APT
Asymmetric warfare
Offensive goals
Attack Strategies and Methods
How the adversary breaks into systems
Mitnick attack
Attack methods
SEC401.3: Internet Security Technologies
Overview
Military agencies, banks, and retailers offering electronic commerce programs, as well as dozens of other types of organizations, are striving to understand the threats they are facing and what they can do to address those threats. On day 3, you will be provided with a roadmap to help you understand the paths available to organizations that are considering deploying or planning to deploy various security devices and tools such as intrusion detection systems and firewalls. When it comes to securing your enterprise, there is no single technology that is going to solve all your security issues. However, by implementing an in-depth defense strategy that includes multiple risk-reducing measures, you can go a long way toward securing your enterprise.
Topics
Vulnerability Scanning and Remediation
Approaches and methods of remediation
Building a network visibility map
Host identification
Port scanning
Vulnerability scanning
Penetration testing
Web Security
Web communication
Web security protocols
Active content
Cracking web applications
Web application defenses
Firewalls and Perimeters
Types of firewalls
Pros and cons of firewalls
Firewall placement
Packet filtering, stateful, and proxies
Honeypots
Forensics
Honeypots
Honeynets
Honey tokens
Host-based Protection
Intrusion detection
Intrusion prevention
Tripwire
Pros and cons
Network-based Intrusion Detection and Prevention
Pros and cons
Deployment strategies
Snort
Development and advances
SEC401.4: Secure Communications
Overview
There is no silver bullet when it comes to security. However, there is one technology that would help solve a lot of security issues, though few companies deploy it correctly. This technology is cryptography. Concealing the meaning of a message can prevent unauthorized parties from reading sensitive information. Day 4 looks at various aspects of encryption and how it can be used to secure a company's assets. A related area called steganography, or information hiding, is also covered. The day finishes by looking at using the Critical Security Controls for metrics based dashboards and performing risk assessment across an organization.
Topics
Cryptography
Need for cryptography
Types of encryption
Symmetric
Asymmetric
Hash
Ciphers
Digital substitution
Algorithms
Real-world cryptosystems
Crypto attacks
VPNs
Types of remote access
PKI
Digital certificates
Key escrow
Steganography
Types
Applications
Detection
Critical Security Controls
Overview of the controls
Implementing the controls
Auditing the Controls
Specific controls and metrics
Risk Assessment and Auditing
Risk assessment methodology
Risk approaches
Calculating risk
SLE
ALE
SEC401.5: Windows Security
Overview
Windows is the most widely-used and hacked operating system on the planet. At the same time, the complexities of Active Directory, PKI, BitLocker, AppLocker, and User Account Control represent both challenges and opportunities. This section will help you quickly master the world of Windows security while showing you the tools that can simplify and automate your work. You will complete the day with a solid grounding in Windows security, by looking at automation, auditing and forensics.
Topics
Security Infrastructure
Windows family of operating systems
Workgroups and local accounts
What is Active Directory?
Domain users and groups
Kerberos, NTLMv2, smart cards
Forests and trusts
What is group policy?
Service Packs, Patches, and Backups
Service packs
E-mail security bulletins
Patch installation
Automatic updates
Windows server update services
Windows backup
System restore
Device driver rollback
Permissions and User Rights
NTFS permissions
File and print sharing service
Shared folders
BitLocker drive encryption
Security Policies and Templates
Group policy objects
Password policy
Lockout policy
Anonymous access
Software restriction policies
Securing Network Services
Firewalls and packet filtering
IPSec and VPNs
Wireless networking
Security configuration wizard
Remote desktop protocol (RDP)
Auditing and Automation
Microsoft baseline security analyzer
SECEDIT.EXE
Windows event logs
NTFS and registry auditing
IIS logging
Creating system baselines
Scripting tools
Scheduling jobs
SEC401.6: Unix/Linux Security
Overview
While organizations do not have as many Unix/Linux systems, those that they do have are often some of the most critical systems that need to be protected. Day 6 provides step-by-step guidance to improve the security of any Linux system. The course combines practical "how to" instructions with background information for Linux beginners, as well as security advice and best practices for administrators of all levels of expertise.
Topics
Linux Landscape
Different variants of and uses for Linux
Ways processes are started
Network interface information
Process information
Directory hierarchy
Partitions and OS installation
Permissions and User Accounts
Setting permissions
SUID and SGID
Controlling access
Root vs. user accounts
Setting password controls
Pluggable authentication module (PAM)
Linux OS Security
Dangerous services
Helpful services
Running and stopping programs
Configuration changes and restarting services
File system permissions, ownership, and systems
Mounting drives
Maintenance, Monitoring, and Auditing Linux
Common causes of compromise
Patching
Backing up data
Syslog
Analyzing log files
Other logging
Linux Security Tools
File integrity verifications
Chkrootkit
CIS hardening guides
Bastille linux
Sniffers
Snort
Additional Information
To give you an idea of the effectiveness of the course, here is what a few former students have said about it:
"SEC401 provides an excellent overview of security fundamentals delivered by experienced industry professionals." - Jathan Watso, Department of Finance
"Excellent material for security professionals wanting a deeper level of knowledge on how to implement security policies, procedures, and defensive mechanisms in an org." - Brandon Smit, Dynetics
"SEC401 took what I thought I knew and truly explained everything to me. Now, I also UNDERSTAND the security essentials fundamentals and how/why we apply them. Loved the training, cannot wait to come back for more." - Nicholas Blanton, ManTech International
Security 401: Security Essentials Bootcamp Style consists of course instructions and hands-on sessions. To reinforce the skills covered in class and gain experience with the tools needed to implement effective security, there are hands-on labs every day. These lab sessions are designed to enable students to use the knowledge gained throughout the course in an instructor-led environment. Students will have the opportunity to install, configure, and utilize the tools and techniques that they have learned. In class you will receive a USB drive with 2 virtual machines, but it is critical that you have a properly configured system prior to class.
IMPORTANT: You can use any 64-bit version of Windows, Mac OSX, or Linux as your core operating system that also can install and run VMware virtualization products. You also must have a minimum of 8 GB of RAM or higher for the VM's to function properly in the class. A VMware product must also be installed prior to coming to class. Verify that under BIOS, Virtual Support is ENABLED.
Mandatory System Requirements
System running Windows 64-bit version
At least 8 GB RAM
50 GB of available disk space (more space is recommended)
Administrator access to the operating system and all security software installed.
Anti-virus software will need to be disabled in order to install some of the tools.
An available USB port.
Machines should NOT contain any personal or company data.
Verify that under BIOS, Virtual Support is ENABLED.
Mandatory Downloads prior to coming to class:
It is critical that your CPU and operating system support 64-bit so that our 64-bit guest virtual machine will run on your laptop. VMware provides a free tool for Windows and Linux that will detect whether or not your host supports 64-bit guest virtual machines. For further troubleshooting, this article also provides good instructions for Windows users to determine more about the CPU and OS capabilities. For Macs, please use this support page from Apple to determine 64-bit capability.
Please download and install VMware Workstation 11, VMware Fusion 7, or VMware Workstation Player 7 or higher versions on your system prior to class beginning. If you do not own a licensed copy of VMware Workstation or Fusion, you can download a free 30-day trial copy from VMware. VMware will send you a time-limited serial number if you register for the trial at their website.
SEC401 Checklist
I have confirmed that:
The system is running a 64-bit operating system
I have administrator access to the operating system
Anti-virus is disabled
The system includes a working USB port
I downloaded and installed the VMWare Workstation Player
If you have additional questions about the laptop specifications, please contact laptop_prep@sans.org.
Anyone who works in security, is interested in security, or has to understand security should take this course, including:
Security professionals who want to fill the gaps in their understanding of technical information security
Managers who want to understand information security beyond simple terminology and concepts
Operations personnel who do not have security as their primary job function but need an understanding of security to be effective
IT engineers and supervisors who need to know how to build a defensible network against attacks
Administrators responsible for building and maintaining systems that are being targeted by attackers
Forensic analysts, penetration testers, and auditors who need a solid foundation of security principles so they can be as effective as possible at their jobs
Anyone new to information security with some background in information systems and networking.
SEC401 Security Essentials Bootcamp Style covers all of the core areas of security and assumes a basic understanding of technology, networks, and security. For those who are brand new to the field with no background knowledge, SEC301: Intro to Information Security would be the recommended starting point. While SEC301 is not a prerequisite, it will provide the introductory knowledge that will help maximize the experience with SEC401.
Other Courses People Have Taken
Other Courses People Have Taken
For those who are more advanced, SEC501: Enterprise Defender might be the more appropriate course to take.
Course books with labs
USB (containing Windows 10 license)
TCP/IP reference guide
MP3 audio files of the complete course lecture
Apply what you learned directly to your job when you go back to work
Design and build a network architecture using VLANs, NAC, and 802.1x based on advanced persistent threat indicators of compromise
Run Windows command line tools to analyze the system looking for high-risk items
Run Linux command line tools (ps, ls, netstat, etc.) and basic scripting to automate the running of programs to perform continuous monitoring of various tools
Install VMWare and create virtual machines to create a virtual lab to test and evaluate tools/security of systems
Create an effective policy that can be enforced within an organization and design a checklist to validate security and create metrics to tie into training and awareness
Identify visible weaknesses of a system using various tools and, once vulnerabilities are discovered, cover ways to configure the system to be more secure
Build a network visibility map that can be used for hardening of a network - validating the attack surface and covering ways to reduce that surface by hardening and patching
Sniff open protocols like telnet and ftp and determine the content, passwords, and vulnerabilities using WireShark.
SEC401 is an interactive hands-on training course. The following are some of the lab activities that students will carry out:
Setup of virtual lab environment
Windows/Linux tutorial
TCP dump analysis
WireShark decoding of VoIP traffic
Password cracking
Host-based discovery with Dumpsec
Hashing to preserve digital evidence
Analyzing networks with hping and nmap
Event correlation with Splunk
Use of steganography tools
Securing a Windows system with MBSA and SCA
Author Statement
"One of the things I love to hear from students after teaching Security 401 is 'I have worked in security for many years and after taking this course I realized how much I did not know.' With the latest version of Security Essentials and the Bootcamp, we have really captured the critical aspects of security and enhanced those topics with examples to drive home the key points. After you have attended Security 401, I am confident you will walk away with solutions to problems you have had for a while, plus solutions to problems you did not even know you had."
- Eric Cole
Additional Resources
View Dr. Cole's security videos
Learn even more about computer and information security in the SANS Reading Room, where more than 1,600 White Papers authored by industry professionals are available for free. The papers cover such topics as:
Network fundamentals
Core security design principles for networks
Protocol behavior
Analysis and decoding of packets
Information assurance foundations
Computer security policies
Contingency and continuity planning
Password management and access control
Incident handling
Offensive and defensive information warfare
Host-based intrusion detection and prevention
Network-based intrusion detection and prevention
Offensive methods of attack
Firewalls and perimeters
Risk assessment and auditing
Cryptography
Steganography
Wireless security
Operations security
Windows security
Unix/Linux security
Take your learning beyond the classroom. Explore our site network for additional resources related to this course's subject matter.
Pricing
| Price | Options |
| --- | --- |
| 6,610 USD | OnDemand Included |