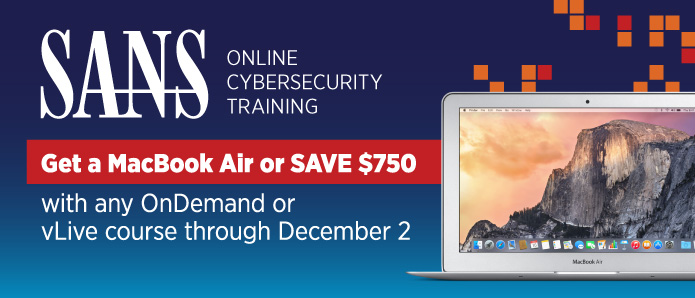 Get a New MacBook Air, Toshiba Portege Z30 or a $750 Discount with any OnDemand or vLive Course Now
SANS Institute is the leading provider of information security training in the world, and our online learning platforms allow you to complete a wide variety of SANS courses anytime and anywhere via your own laptop.
Now, for a limited time, you can choose a MacBook Air, Toshiba Portege Z30 or a $750 discount when you register for any SANS OnDemand or vLive online course! More than 30 courses are eligible including Penetration Testing, Digital Forensics, Industrial Control System Security, Software Security and Cyber Defense courses, and all provide you with at least four months of online access and subject-matter expert support to help you get the most out of your training.
To redeem this offer now, simply follow these steps:
Choose a qualifying OnDemand or vLive course
Use the discount code of your choice at checkout:
MACJ15

to receive a MacBook Air

PCJ15

to receive a Toshiba Portege Z30

750J15

to receive a $750 discount on a course
Pay for your course by the December 2 offer deadline

OnDemand Features:
Self-paced, E-learning platform
Unlimited access to course for 4 months
Subject-Matter Expert support
Printed books, MP3s & training materials
Archived slides & labs
No Travel!
View OnDemand Courses

vLive Features:
Live, online evening classrooms
Unlimited access to course for 6 months
Interactive sessions with instructors
Printed books, MP3s & training materials
Archived slides & labs
No Travel!
View vLive Courses
Terms & Conditions:
MacBook Air and Toshiba Portege(R) Z30 are only available to individuals in the United States or Canada. The USD $750 discount is available globally. This offer expires on December 2, 2015 and payment must be received by this expiration date to participate in the offer. Allow up to 4 weeks for MacBook Air or Toshiba Portege Z30 delivery. For Canada and APO addresses, please allow up to 6 weeks for delivery. Canada customers are responsible for paying any applicable duties, taxes or customs fees. This offer cannot be combined with any other offer or discount, including SANS Voucher Credit. Degree and special program courses are not eligible for this offer, inquire for details. SANS reserves the right to substitute this offer for an alternative product, service or cash award of approximately equivalent retail value. MacBook Air is a trademark of Apple Inc., registered in the U.S. and other countries. Toshiba Portege(R) Z30 is a registered trademark of Toshiba Corporation.
Apple MacBook Air 11.6"
1.6GHz Intel Dual-Core Core i5, Turbo up to 2.7GHz
Intel HD Graphics 6000
128GB PCIe-based Flash Storage
4GB 1600MHz RAM
1366 x 768 resolution
OS El Capitan
HD Webcam & Graphics
USB, Thunderbolt
Toshiba Portege Z30 13.3"
1.7 GHz Intel(R) Core(TM) i5 with Intel(R) Turbo Boost Technology 2.0 up to 2.7GHz
128GB mSATA solid state drive
8GB RAM
1366 x 768 resolution
Windows 8.1
HD Webcam & Graphics
USB, HDMI
Looking to maximize your budget or extend your fiscal year funds?
The SANS Universal Voucher Credit Program allows your organization to make an initial training investment and earn bonus savings on that investment. SANS will give you an additional 5% bonus if you use your Voucher Credits exclusively for SANS OnDemand or vLive training.
Learn more at: https://www.sans.org/vouchers#online