SEC405: Business Finance Essentials
New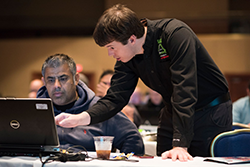 Turn Your Financial Uncertainty into Financial Clarity!
SEC405: Business Finance Essentials will:
Increase your business financial literacy
Improve your understanding and awareness of business financial health
Prepare you to partner with your organization's finance team
Provide you with the skills and knowledge to serve as a trusted financial advisor to your organization
Course Overview
What would it feel like to have confidence in navigating your business financials before dedicating another hour to cybersecurity work or spending another dollar of your cybersecurity budget? This course will give you the confidence and clarity to understand and effectively communicate financial stewardship. The knowledge and skills you learn in SEC405 will contribute to your own success as well as the success of the cybersecurity team you are privileged to lead, and, ultimately, the success of your organization.
In Business Finance Essentials you will learn the importance of a clear business case by creating one yourself during a course exercise. Need to design a multi-year budget? No problem! We will talk about the rationale for that design and then undertake an exercise to create such a budget. You'll be able to use these examples as templates later when you need to do these tasks yourself!
Objectives
What will this course immediately prepare you to do?
Fully understand what your Chief Financial Officer (CFO) and finance team are saying
Stand out as an engaged partner in shared business success
Follow a repeatable eight-step Finance Framework that helps you understand and communicate finance more effectively
Discover and successfully interpret an organization's financial goals
Better align the cybersecurity program to the strategic priorities of the organization
Better understand the business side of an enterprise, including business decisions and tradeoffs
Improve partnerships with key leaders
Achieve alignment of your cybersecurity program
What will the Chief Financial Officer notice after you take this course and apply the concepts youâÂÂve learned?
You ask better questions of your CFO, Controller, and Finance team
You can interpret common financial statements
You demonstrate strong financial stewardship
You are able to create a multi-year budget
You make a greater effort to work with finance colleagues
What strategies can build a meaningful relationship with your Chief Financial Officer?
Understand what is important to your CFO
Demonstrate the interest, skills, and knowledge that make you stand out
More specifically, be able to interpret a balance sheet, cash flow statement, and income statement
How can you demonstrate financial stewardship?
Think through and assess such concepts as "before the next dollar is spent" and "before the next hour is spent"
Ensure that your efforts are definitively focused on the highest risks
What does a Chief Information Security Officer need to know about finance to be successful?
How to successfully navigate the mysterious realm of business finance
How to secure multi-year funding for cybersecurity projects
How to create a business case
What You Will Receive
Electronic courseware for learning how to understand business finance
Course book
Lab workbook with completed examples
MP3 audio files of the complete course lecture
An enabling and repeatable eight-step Finance Framework created to help you understand and communicate finances more effectively
What Courses To Take Next
SANS SEC402: Cybersecurity Writing: Hack the Reader
SANS SEC403: Secrets to Successful Cybersecurity Presentation
Course Syllabus
SEC405.1: Business Finance Essentials
Exercises
Developing a clear business case
Creating a multi-year budget
Topics
What you must know about finance

Priorities of the CFO
Metrics

A clear business case

Lab 1: Developing a clear business case

Financial stewardship

Your three key financial documents
The Finance Framework
Navigating vendor negotiation
After-action report

A multi-year budget

Lab 2: Creating a multi-year budget

How we do this work

Tips for the cyber leader
Course conclusions
Additional Information
Students need to have a computer with Microsoft Office 2016 (or later) installed on it. The ability to open Microsoft Excel files is a must. Students may choose to use a computer with another spreadsheet program installed, but the tools provided in the course have only been thoroughly tested with Microsoft Office products. Certain functionality in the tools will not work properly with other spreadsheet programs. Therefore, it is highly recommended that students use a computer with a copy of Microsoft Office 2016 or later installed on their machine.
Also, students will need to download sample tools or resources as a part of the course activities. Therefore, student computers should be capable of accessing internet networks, and students should have the ability to configure all network settings on their machine.
Our hope is that by following these simple instructions you will be able to make the most of your course experience.
If you have additional questions about the laptop specifications, please contact laptop_prep@sans.org.
If you have additional questions about the laptop specifications, please contact laptop_prep@sans.org.
CISOs
Information Security Officers
Information Security Directors
Information Security Managers
Information Security Leaders
All those who aspire to become an effective information security leader
A basic understanding of information security and information security management topics is helpful for students attending SEC405. However, it is not necessary to have a strong background in these areas. The course presents a step-by-step approach to understand business finance that students will be able to follow regardless of their technical information security or management background.
Author Statement
"It should not be so hard for the cybersecurity leader to understand how business finance works. SEC405 Business Finance Essentials will allow you to better understand the language spoken by business, and in turn make sure your message gets heard. You will have a better understanding of concepts that many cybersecurity leaders avoid at their peril.
"Get wisdom as cheaply as you can" is the best advice I have ever received. Throughout this course, you can do just that. You will migrate from confusion to clarity as we tackle several critical topics that, once mastered, will set you apart from your peers and impress your boss!"
- Russell Eubanks
Pricing
| Price | Options |
| --- | --- |
| 1,450 USD | — |