MGT551: Building and Leading Security Operations Centers
New
Information technology is so tightly woven into the fabric of modern business that cyber risk has become business risk. SOC teams are facing more pressure than ever before to help manage this risk by identifying and responding to threats across a diverse set of infrastructures, business processes, and users. Furthermore, SOC managers are in the unique position of having to bridge the gap between business processes and the highly technical work that goes on in the SOC. Managers must show alignment to the business and demonstrate real value - a challenge when the threats are constantly changing and sometimes unseen. How do we know our security teams are aligned to the unique threats facing our organization? How do we get consistent results and prove that we can identify and respond to threats in time to minimize business impact? And how can we build an empowering, learning environment where analysts can be creative and solve problems while focusing on the mission at hand?
MGT551 bridges this gap by giving students the technical means to build an effective defense and the management tools to build an effective team. From section one of this training, students will learn how to design their defenses around their unique organizational requirements and risk profile. They will learn how to combine SOC staff, processes, and technology in a way that promotes measurable results and covers all manner of infrastructure and business processes. Most importantly, they will learn how to keep the SOC growing, evolving, and improving over time.
Throughout this course, students can expect to learn key factors for success in managing a Security Operations Center (SOC), including:
Collecting the most important logs and network data
Building, training, and empowering a diverse team
Creating playbooks and managing detection use cases
Using threat intelligence to focus your budget and detection efforts
Threat hunting and active defense strategies
Efficient alert triage and investigation workflow
Incident response planning and execution
Choosing metrics and long-term strategy to improve the SOC
Team member training, retention, and prevention of burnout
SOC assessment through capacity planning, purple team testing, and adversary emulation

NOTICE TO STUDENTS
MGT551 has expanded from 2 days to 5 days. Days 1 & 2 remain largely the same with Days 3-5 being additional content.
We are often asked how SEC450 and MGT551 are different. Here are the primary differences: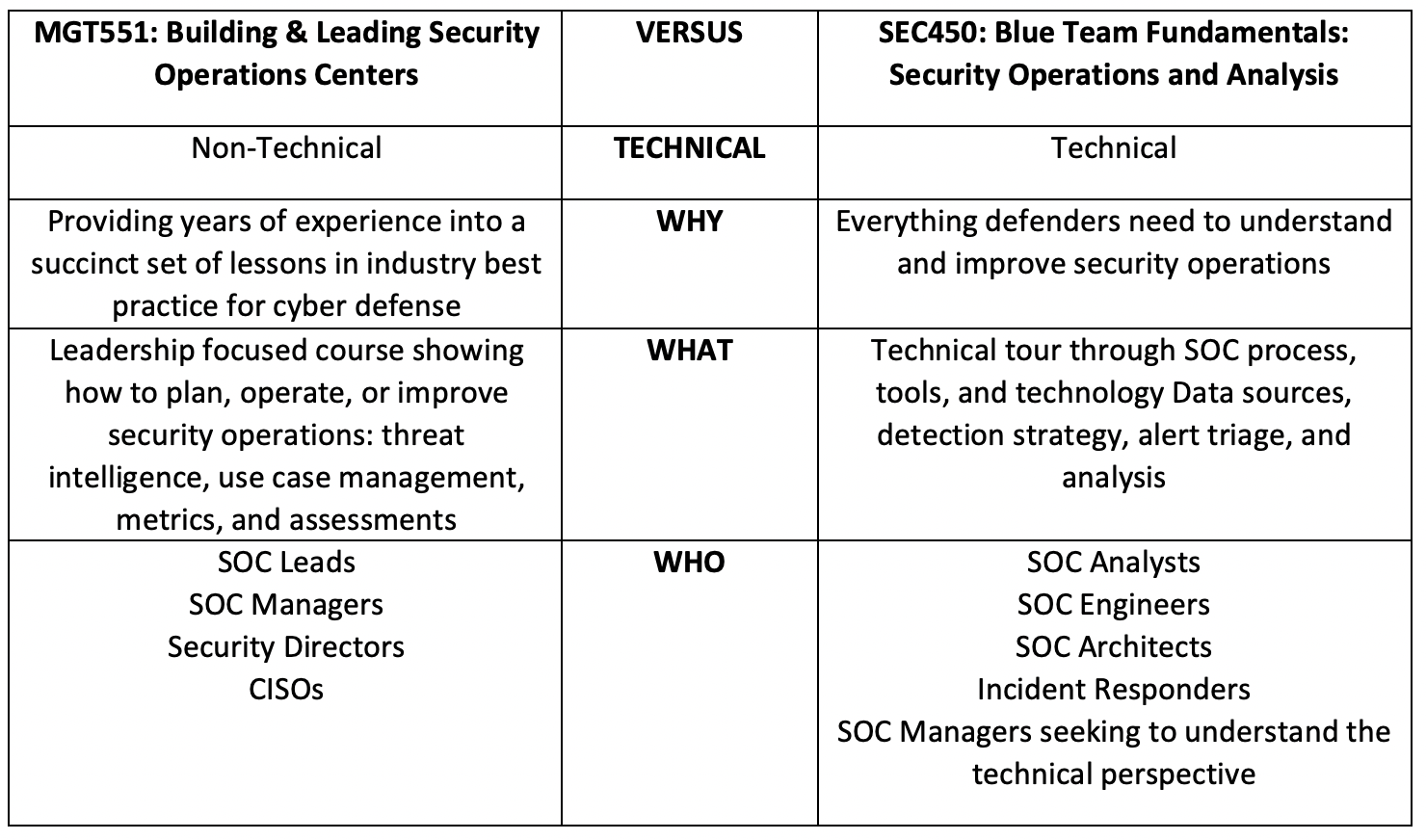 LAB INFORMATION
While this course is focused on management and leadership, it is by no means limited to non-technical processes and theory. Throughout the five days of instruction, students will work on fifteen hands-on exercises covering everything from playbook implementation to use case database creation, attack and detection capability prioritization and visualization, and purple team planning, threat hunting, and reporting. Plus, students will have the opportunity to participate in a brand new iteration of Cyber42 Cybersecurity Leadership Simulation built specifically for MGT551! Attendees will leave with a framework for understanding where their SOC should be focusing its efforts, how to track and organize defensive capabilities, and how to drive, verify, and communicate SOC improvements.
WHAT YOU WILL RECEIVE
Custom distribution of the Linux Virtual Machine containing free open-source SOC tools
MP3 audio files of the complete course lecture
Printed and Electronic Courseware
A digital download package that includes the above and more
ADDITIONAL RESOURCES
WHAT TO TAKE NEXT
Course Syllabus
MGT551.1: SOC Design and Operational Planning
Overview
MGT551 starts with the critical elements necessary to build your Security Operations Center: understanding your enemies, planning your requirements, making a physical space, building your team, and deploying a core toolset. Throughout this course section, students will learn how to build a strong foundation upon which an SOC can operate, focusing first on the most important users and data, and tailoring defense plans to threats most likely to impact your organization. Through workflow optimization, information organization, and data collection, you will learn how to ensure that your security operations will hit the ground running as efficiently as possible while protecting privileged SOC users and data. Exercises show how to implement these concepts through threat group and asset profiling, mapping likely attack paths into your environment, and implementing use cases repeatable playbooks to identify the threats and attack vectors you have identified.
Exercises
Threat actor assessment
Attack path development
Developing and implementing SOC playbooks
Topics
Introduction
What we are up against/industry surveys
The average SOC
What top-performing SOCs have in common
SOC trends
Class goals
SOC Functions
High-level SOC diagram
SOC functions
Core activities
Auxiliary functions
SOC Planning
Do you need a dedicated internal SOC?
What is and what is not a SOC?
Mission and purpose
Requirements
Standards and frameworks
Policies
Roles
Staffing levels
Constituency
Steering committee
Services/Capabilities
Charter
Team Creation, Hiring, and Training
Organizational charts
Choosing a tiered vs. tierless SOC
Building a dream team
Interviewing tips and techniques
Interviewing mistakes and avoiding bias
Training plans
Building the SOC
Physical space
Analyst/SOC IT considerations
Protecting SOC data
SOC Tools and Technology
Foundational network and endpoint collection and detection technologies
"Next-gen" must-have capabilities
Advanced detection technologies
Analyst core toolset
Live response tools
Playbooks and SOAR
Planning tools and frameworks
SOC Enclave and Networking
Requirements for SOC connectivity
Protecting SOC Data
SOC networking
SOC data flow
MGT551.2: SOC Telemetry and Analysis
Overview
Section 2 of MGT551 focuses on expanding our understanding of attacker tactics, techniques, and procedures and how we might identify them in our environment. We will discuss defensive theory and mental models that can guide our assessment and planning efforts, data collection and monitoring priorities, and cyber threat intelligence collection. We will also cover more specialized security monitoring use cases like DevOps, supply chain, insider threat, and business e-mail compromise. Exercises include using the MITRE ATT&CK framework to plan security data collection and writing solid threat intelligence requirements for relevant, timely information that answers your most pressing defensive questions.
Exercises
Attack Tree Assessment
Visualizing Attack Techniques and Security Controls
Writing Priority Intelligence Requirements
Topics
Cyber Defense Theory and Mental Models
Ops Tempo and the OODA Loop
Threat modeling
MITRE ATT&CK/Kill Chain
Threat Intel - F3EAD
Pyramid of pain and analytic types
The SOC as an "infinite game"
Prevention and the Future of Security
Defensible network architecture
Hardening at the network and host level
Zero trust best practices
Identity security
Balancing productivity and security
SOC Data Collection
The SOC data collection system
Open-source NSM and host-data tools
Collection issues

Tactical log collection
Audit policy flexibility
Most important data sources
How to collect data
Parsing, filtering, enrichment, and storage

Secure protocols and encrypted traffic analysis
Other Monitoring Use Cases
DevOps telemetry
Chaos engineering and security monitoring
Supply chain security
Business e-mail compromise
Insider threat
Major breach case studies
Using MITRE ATT&CK to Plan Collection
Key data sources
Defense mapping
Assessing your capabilities using DETT&CT
Cyber Threat Intelligence
Threat intelligence types and sources
Consuming and producing intelligence
Mental models for threat intel
Intel transport and use
Threat intelligence platforms and integration
Practical Collection Concerns
Security data collection
Parsing, filtering, categorization, and normalization
Data enrichment
Storage and indexing
MGT551.3: Attack Detection, Hunting, and Triage
Overview
Section 3 of MGT551 is all about improving detections. We begin with effective triage and analysis and then move to more effective alerting mechanisms, starting with the fundamentals of analytic design. We will discuss detection engineering as a core SOC discipline to be planned, tracked, and measured. You will learn a repeatable, data-driven approach to SOC capacity planning and apply that process in a hands-on exercise using custom tools that you can take back to your own environment. We will also cover the different types of proactive threat hunting, see a structured approach that results in measurable improvements to your detection capability, and apply that approach in a hands-on threat hunting lab. Finally, we will look at active defense concepts and their role in a mature security operations capability. Taking the tools, processes, and concepts from section 3 of MGT551 back to your SOC will ensure that no (virtual) stone in your environment remains unturned.
Exercises
SOC Capacity Planning
Structuring, Documenting, and Organizing Use Cases
Planning a Threat Hunt
Topics
Efficient Alert Triage
Triage approach in various SOC staffing models
Where to triage alerts
What analysis must know
Prioritizing sensitive and high-risk accounts
Data classification
Capacity Planning
Basic and complicating factors in triage capacity planning
Estimating workload
Factors contributing to alert count
Determining the ?right? number of alerts
Approaches for handling excessive alerts
Detection Engineering
SOC threat detection systems
Analytic outcomes and tuning
Writing high-fidelity rules
Use case tracking and storage
Risk-based scoring and alert aggregation
Analytic and Analysis Frameworks and Tools
Blue team knowledge standardization and upcoming tools
ATT&CK Navigator
Yara
Sigma
Jupyter notebooks
Detection testing labs
Threat Hunting
What is threat hunting and why is it needed?
Scheduling
Data quality
Hunting process and techniques
Hunting maturity model
Showing the value of threat hunting
Active Defense
What is active defense/deception?
Active defense techniques and goals
Active defense tooling
MGT551.4: Incident Response
Overview
From toolsets to proven frameworks to tips and tricks learned in countless real-world scenarios, section four covers the full response cycle, from preparation to identification to containment, eradication, and recovery, for operations managers. The fourth section of MGT551 begins with the fundamentals of investigation: effective triage, investigative mindset, and tools for avoiding bias. Then the focus turns to preparing your environment to be defended by deploying security controls, identifying high-value assets and users, and designing playbooks to guide your response efforts. Finally, we will review best of breed incident response tools and free frameworks to guide your planning. Lab exercises in section four include incident response playbook design using the free RE&CT framework, investigation review and quality control, and tabletop exercise development.
Exercises
Designing Tabletop Exercises
Planning Incident Response Using RE&CT
Investigation Quality Control
Topics
Investigation
Investigation mindset
Avoiding bias
Analysis of Competing Hypothesis
Useful investigative techniques
Incident Response (IR) Planning
IR policy, plans, and procedures
Staffing for IR
Communication guidelines and methods
Incident response procedure overview
Preparation
Defensible network architecture
The Center for Internet Security (CIS) Controls
Securing high-value assets
Incident response procedures
Developing IR playbooks using RE&CT
Incident response communications
Identification, Containment, and Eradication
When to call incident
Triggering the incident response process and assembling the team
Incident categorization
Data acquisition
Containment procedures
Incident documentation
Preparing your IR "go bag"?
Threat eradication
Preserving evidence and engaging law enforcement
Recovery and Post-Incident
Writing the incident report
Collecting intelligence
Additional logging during and after incidents
IR plan improvement
Incident Response in the Cloud
Preparing your cloud environment for detection and response
Containment in the cloud
Dealing with a Breach
Crisis management process and key functions
Crisis communications
Breach case studies
IR Tools
EDR, NDR, and XDR
Windows Management Instrumentation and command line incident response
Live response tools
Forensic analysis tools
Malware analysis tools
Continuous Improvement
Collaborative problem solving
Improving shared knowledge
Designing tabletop exercises
MGT551.5: Metrics, Automation, and Continuous Improvement
Overview
The fifth and final section of MGT551 is all about measuring and improving security operations. We focus on three areas: developing and improving people, measuring SOC performance, and continuous validation through assessment and adversary emulation. We will also cover some of the more challenging elements of managing people in a dynamic and often high-pressure environment: building the right culture, addressing damaging behaviors, and handling common pitfalls of daily operations. By demonstrating value through structured testing and fostering a culture of learning, collaboration, and continuous improvement, we can ensure long term growth and success. In section five, you?ll receive the tools, techniques, and insights to do just that. Hands-on exercises will include building skills self-assessments and training plans for your analysts, designing SOC metrics, and continuous assessment and validation.
Exercises
Building a Skills Self-Assessment and Training Plan
Creating, Classifying, and Communicating Your Metrics
Purple Team Assessment
Topics
Staff Retention and Mitigation of Burnout
Cultivating intrinsic motivation in your team
SOC human capital model

Growth, skills, empowerment, and creativity
Automation, Ops efficiency, management/metrics

Burnout mitigation tactics for new and experienced analysts
Optimizing tasks for analyst growth
Performance management
Metrics, Goals, and Effective Execution
Daily Ops vs. initiatives
Metrics vs. KPIs. vs. OKRs

Selecting Metrics

Selecting KPIs

Organizing operational measures

Creating OKRs
Successful execution

Metrics types
Goal setting
Acting on the right metrics
Scoreboards
Keeping a cadence of accountability
Measurement and Prioritization Issues
Levels and types of measurement
The downside of risk matrices and CVSS scoring
The right kinds of measurements
Quantitative and qualitative measurement with examples
Strategic Planning and Communications
Building a strategic SOC plan
Executing your strategic plan
Maintaining direction, alignment, and commitment
Measuring SOC maturity with SOC-CMM
Storytelling and visualization in security
Analytic Testing and Adversary Emulation
Analytic testing

Analytic testing tools
Automated assessments

Penetration resting, red teaming, and adversary emulation
Purple team vs. red team execution and benefits
Purple teaming

Benefits
Methodology and execution
Reporting and tracking tools
Automation and Analyst Engagement
Types of automation
A 5-step approach to applying automation in the SOC
Automating SOC workflows with SOAR
Six sigma concepts
Gamification of SOC tasks and workflows
Optimizing for continuous engagement
Additional Information
Important! Bring your own system configured according to these instructions!
A properly configured system is required to fully participate in this course. If you do not carefully read and follow these instructions, you will likely leave the class unsatisfied because you will not be able to participate in hands-on exercises that are essential to this course. Therefore, we strongly urge you to arrive with a system meeting all the requirements specified for the course.
Your host operating system must be either the latest version of Windows 10, macOS 10.15.x or later, or Linux that also can install and run VMware virtualization products described below. You also must have 8 GB of RAM or higher for the VM to function properly in the class.
It is critical that your CPU and operating system support 64-bit so that our 64-bit guest virtual machine will run on your laptop.
In addition to having 64-bit capable hardware, AMD-V, Intel VT-x, or the equivalent must be enabled in BIOS/UEFI.
Please download and install either VMware Workstation Pro 15.5.X+, VMware Player 15.5.X+ or Fusion 11.5+ on your system prior to the beginning of class. If you do not own a licensed copy of VMware Workstation or Fusion, you can download a free 30-day trial copy from VMware. VMware will send you a time-limited serial number if you register for the trial on its website.
MANDATORY MGT551 SYSTEM REQUIREMENTS:
CPU: 64-bit 2.0+ GHz processor or higher-based system is mandatory for this class (Important - Please Read: a 64-bit system processor is mandatory)
BIOS/UEFI: VT-x, AMD-V, or the equivalent must be enabled in the BIOS/UEFI
RAM: 8 GB (gigabytes) of RAM or higher is mandatory for this class (Important - Please Read: 8 GB of RAM or higher is mandatory)
Disk: 25 gigabytes of free disk space
Connectivity:
Wireless Ethernet 802.11 B/G/N/AC
USB-A ports or an adapter to use a USB-A thumb drive if in person (version 3.0 compatibility highly recommended)
Software:
VMware Workstation, Workstation Player, or Fusion
The Linux virtual machine will be provided to students
Configuration:
Please verify before coming to class that you have the administrative permissions required to transfer a virtual machine from a USB drive to your hard disk and start it. Also verify that Windows Device Guard, DLP, or other host-based protections will not interfere with the USB transfer or VM startup. (This is a common issue with company-built PCs, so if you intend to bring a corporate laptop, please test this before the event.)
Your course media will now be delivered via download. The media files for class can be large, some in the 40 - 50 GB range. You need to allow plenty of time for the download to complete. Internet connections and speed vary greatly and are dependent on many different factors. Therefore, it is not possible to give an estimate of the length of time it will take to download your materials. Please start your course media downloads as you get the link. You will need your course media immediately on the first day of class. Waiting until the night before the class starts to begin your download has a high probability of failure.
SANS has begun providing printed materials in PDF form. Additionally, certain classes are using an electronic workbook in addition to the PDFs. The number of classes using eWorkbooks will grow quickly. In this new environment, we have found that a second monitor and/or a tablet device can be useful by keeping the class materials visible while the instructor is presenting or while you are working on lab exercises.
If you have additional questions about the laptop specifications, please contact laptop_prep@sans.org.
This course is intended for those who are looking to build a Security Operations Center for the first time or improve the one their organization is already running.
Ideal student job roles for this course include:
Security Operations Center Managers or Leads
Security Directors
New Security Operations Team Members
Lead / Senior SOC Analysts
Technical CISOs and Security Directors
"The information was pertinent and current for the environment SOCs are facing today." - Christopher Elliot, Hulu
Author Statement
"Written to compliment my first SOC course (SEC450: Blue Team Fundamentals), MGT551 completes the security operations picture by introducing the best higher-level frameworks and organization tactics I've discovered throughout my career as a SOC analyst and manager for a large pharmaceutical company. By including hands-on application with state of the art open-source tools and methods for security operations, MGT551 delivers the complete package for SOC leaders. This course condenses years of knowledge and real-life experience with months of additional research to bring you the most important information to effectively and efficiently lead your security team to success." - John Hubbard
"As someone who has been the victim of less than ideal processes, tools, and team structure, my goal with this course is to help ensure every organization's blue team runs at peak efficiency and capability regardless of size and resources, and that no one must suffer through repeating mistakes so commonly made within the industry. This course is the culmination of 20 years of supporting, building, and leading security operations and I am incredibly excited to bring it to the SANS community." - Mark Orlando
"[I] would and will recommend this course to some of my peers. I have been a security sales engineer for so many years, but was missing customer pain or customer side knowledge. This course has been spot on so far!" - Moises Acevedo, Recorded Future