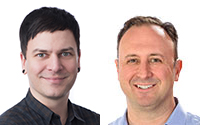 Stephen Sims and James Shewmaker
Stephen Sims
Stephen Sims is an industry expert with over 15 years of experience in information technology and security. Stephen currently works out of San Francisco as a consultant performing reverse engineering, exploit development, threat modeling, and penetration testing. Stephen has a MS in information assurance from Norwich University and is a course author and a Faculty Fellow for the SANS Institute. He is the author of SANS' only 700-level course, SEC760: Advanced Exploit Development for Penetration Testers, which concentrates on complex heap overflows, patch diffing, and client-side exploits. Stephen is also the lead author on SEC660: Advanced Penetration Testing, Exploits, and Ethical Hacking. He holds the GIAC Security Expert (GSE) certification as well as the CISSP, CISA, Immunity NOP, and many other certifications. In his spare time Stephen enjoys snowboarding and writing music.
Here is What Students Say About Stephen Sims:
"Looking at everything I have learned from Stephen, I definitely feel I have gained an edge when it comes to the augmentation of my pentest skills. He made the impossible understandable and I am grateful for that." - Alexander Cobblah, Booz Allen Hamilton
James Shewmaker
James Shewmaker is the founder and principal consultant at Bluenotch Corporation, Long Beach, California, which provides customized security services focusing on investigations, penetration testing, and analysis. 
James authored and maintains the post-exploitation content in the SANS Security 660: Advanced Penetration Testing, Exploit Writing, and Ethical Hacking course. Before becoming a SANS Certified Instructor in 2009, his creative technical work led him on many adventures, including "The Great Translator Invasion of 2003".
James led the development and operations for NetWars as a US Cyber Challenge game in June 2009. He is currently developing an independent cyber challenge, Bunker011, and is involved in the US Cyber Challenge as an instructor at Cyber Camps. James regularly teaches a Tactical Offense and Defense day at these events.
Online options available. Train from any location.
Upcoming Courses Taught By Stephen Sims and James Shewmaker
| Type | Course / Location | Date | Register |
| --- | --- | --- | --- |
| OnDemand | Online | Anytime | |
| SelfStudy | Online | Anytime | |
*Course contents may vary depending upon location, see specific event description for details.