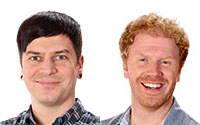 Stephen Sims and James Lyne
Stephen Sims
Stephen Sims is an industry expert with over 15 years of experience in information technology and security. Stephen currently works out of San Francisco as a consultant performing reverse engineering, exploit development, threat modeling, and penetration testing. Stephen has a MS in information assurance from Norwich University and is a course author and a Faculty Fellow for the SANS Institute. He is the author of SANS' only 700-level course, SEC760: Advanced Exploit Development for Penetration Testers, which concentrates on complex heap overflows, patch diffing, and client-side exploits. Stephen is also the lead author on SEC660: Advanced Penetration Testing, Exploits, and Ethical Hacking. He holds the GIAC Security Expert (GSE) certification as well as the CISSP, CISA, Immunity NOP, and many other certifications. In his spare time Stephen enjoys snowboarding and writing music.
Here is What Students Say About Stephen Sims:
"Looking at everything I have learned from Stephen, I definitely feel I have gained an edge when it comes to the augmentation of my pentest skills. He made the impossible understandable and I am grateful for that." - Alexander Cobblah, Booz Allen Hamilton
---
James Lyne
James Lyne is Global Head of Security Research at the security firm Sophos. He is a self-professed 'massive geek' and has technical expertise spanning a variety of the security domains from forensics to offensive security. James has worked with many organisations on security strategy, handled a number of severe incidents and is a frequent industry advisor. He is a certified instructor at the SANS Institute and is often a headline presenter at industry conferences.
James firmly believes that one of the biggest challenges we face is in making security accessible and interesting to those outside the industry. As a result, he takes every opportunity to educate on security threats and best practice - always featuring live demonstrations and scenarios of how cyber criminals operate in the real world.
James has given multiple TED talks, including at the main TED event. He's also appeared on a long list of national TV programmes to educate the public including CNN, NBC, BBC News, Bill Maher and John Oliver. As a spokesperson for the industry, he is passionate about talent development, regularly participating in initiatives to identify and develop new talent for the industry.
Here is What Students Say About James Lyne:
"James Lyne made this course a tremendous experience. James made it his personal mission to make sure he carried everyone with him no matter what their skill level is. Outstanding!" - S. Khan, EADS-NA