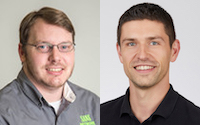 Justin Henderson and John Hubbard
Justin Henderson
Justin Henderson is a passionate and dedicated Information Technology professional. He has been in the Information Technology field since 2005. Justin has a proven desire and ability to achieve comprehensive industry training and uses his knowledge and experience to mentor others. Justin has a high proficiency in technical platforms including operating systems, networking, security, storage, and virtualization but has also applied himself in governance, project management, as well as service management. Currently, Justin holds a Bachelors of Science in Network Design and Administration from Western Governors University and has over 40 certifications some of which are below: Networking - Cisco Certified Network Associate Virtualization - VMware Certified Professional 5 and VMware Certified Professional 5: Desktop Database - MySQL 5 Database Administrator Governance/Service/Project Management - Project Management Professional, ITIL Continual Service Improvement, Certified in Risk and Information Systems Control, Certified Information Security Manager Microsoft - Microsoft Certified Information Technology Professional: Enterprise Administrator and Microsoft Certified Security Engineer 2003: Security Security - GIAC Penetration Tester, GIAC Windows Security Administrator Certification, Licensed Penetration Tester, Certified Ethical Hacker v5, Computer Hacking Forensics Investigator, EC-Council Certified Security Analyst, Tenable Certified Nessus Auditor, Certified Sonicwall Security Administrator, Certified Information Systems Security Professional, Security+ Justin has also taught Network Security at Lake Land College. Some of his other achievements include mentoring individuals in the Information Technology field as well as developing the virtual dojo, a fully automated Cloud Computing solution showcase environment.
Here is What Students Say About Justin Henderson:
"Doing wonderful answering all of our questions. Great pace and finishing on time. Keep up the great job." - Sanjeev Sharda, Peel Regional Police
"Today was excellent - everything was clearly explained and made sense." - Alex Canas
"Excellent instructor. Justin has a wealth of knowledge that he is willing to share with the class." - Thomas Frost, DND
"Justin seems to be a true authority on the subject, which is fantastic. He also gives a lot of time for labs, which is an absolute must that cannot be rushed." - Anonymous
---
John Hubbard
John is a dedicated blue-teamer and is driven to help develop defensive talent around the world. Through his years of experience as the SOC Lead for GlaxoSmithKline, he has real-world, first-hand knowledge of what it takes to defend an organization against advanced cyber-attacks and is eager to share these lessons with his students. As a SANS Cyber Defense curriculum instructor and course author of SEC455, John specializes in threat hunting, network security monitoring, SIEM design and optimization, and constructing defensive postures that allow organizations to protect their most sensitive data. Throughout class, he works with students to explain difficult concepts in relatable and clear language, illustrates important ideas with stories and demonstrations, and encourages students to push themselves beyond the limit of what they thought possible.
John holds degrees in Electrical and Computer Engineering and his past research spans from malware reverse-engineering to car hacking, mobile app security, and IoT devices. In his free time, John enjoys catching every infosec conference he can attend, FPV drone racing, coffee roasting, and slowly turning his home into a data center. He can be found on LinkedIn and on Twitter @SecHubb.
Here is What Students Say About John Hubbard:
"This is one of the best training classes I've ever attended. The materials, labs and instructor were all great! John did a fantastic job!" - Brian Ballenger, LogRhythm
Online options available. Train from any location.
Upcoming Courses Taught By Justin Henderson and John Hubbard
| Type | Course / Location | Date | Register |
| --- | --- | --- | --- |
| OnDemand | Online | Anytime | |
*Course contents may vary depending upon location, see specific event description for details.