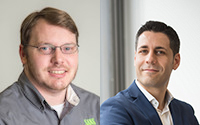 Justin Henderson and Ismael Valenzuela
Justin Henderson
Justin Henderson is a passionate and dedicated Information Technology professional. He has been in the Information Technology field since 2005. Justin has a proven desire and ability to achieve comprehensive industry training and uses his knowledge and experience to mentor others. Justin has a high proficiency in technical platforms including operating systems, networking, security, storage, and virtualization but has also applied himself in governance, project management, as well as service management. Currently, Justin holds a Bachelors of Science in Network Design and Administration from Western Governors University and has over 40 certifications some of which are below: Networking - Cisco Certified Network Associate Virtualization - VMware Certified Professional 5 and VMware Certified Professional 5: Desktop Database - MySQL 5 Database Administrator Governance/Service/Project Management - Project Management Professional, ITIL Continual Service Improvement, Certified in Risk and Information Systems Control, Certified Information Security Manager Microsoft - Microsoft Certified Information Technology Professional: Enterprise Administrator and Microsoft Certified Security Engineer 2003: Security Security - GIAC Penetration Tester, GIAC Windows Security Administrator Certification, Licensed Penetration Tester, Certified Ethical Hacker v5, Computer Hacking Forensics Investigator, EC-Council Certified Security Analyst, Tenable Certified Nessus Auditor, Certified Sonicwall Security Administrator, Certified Information Systems Security Professional, Security+ Justin has also taught Network Security at Lake Land College. Some of his other achievements include mentoring individuals in the Information Technology field as well as developing the virtual dojo, a fully automated Cloud Computing solution showcase environment.
Here is What Students Say About Justin Henderson:
"Doing wonderful answering all of our questions.  Great pace and finishing on time. Keep up the great job." - Sanjeev Sharda, Peel Regional Police
"Today was excellent - everything was clearly explained and made sense." - Alex Canas
"Excellent instructor. Justin has a wealth of knowledge that he is willing to share with the class." - Thomas Frost, DND
"Justin seems to be a true authority on the subject, which is fantastic. He also gives a lot of time for labs, which is an absolute must that cannot be rushed." - Anonymous
Ismael Valenzuela
SANS Certified Instructor Ismael Valenzuela is coauthor of the CyberDefense and Blue Team Operations course, SANS SEC530: Defensible Security Architecture.
Since he founded one of the first IT Security consultancies in Spain, Ismael Valenzuela has participated as a security professional in numerous projects across the globe over the past 19 years.
As a top cybersecurity expert with strong technical background and deep knowledge of penetration testing, security architectures, intrusion detection and computer forensics, Ismael has provided security consultancy, advice and guidance to large government and private organizations, including major EU Institutions and US Government Agencies. 
Prior to his current role as Senior Principal Engineer at McAfee, where he leads research on threat hunting using machine-learning and expert-system driven investigations, Ismael led the delivery of SOC, IR & Forensics services for the Foundstone Services team within Intel globally. Previously, Ismael worked as Global IT Security Manager for iSOFT Group Ltd, one of the world's largest providers of healthcare IT solutions, managing their security operations in more than 40 countries.
He holds a bachelor's degree in computer science from the University of Malaga (Spain), is certified in business administration, and holds many professional certifications. These include the highly regarded GIAC Security Expert (GSE #132) in addition to GREM, GCFA, GCIA, GCIH, GPEN, GCUX, GCWN, GWAPT, GSNA, GMON, CISSP, ITIL, CISM, and IRCA 27001 Lead Auditor from Bureau Veritas UK.
Here is What Students Say About Ismael Valenzuela:
"Ismael is incredible. I have taken 4 SANS courses - all of the instructors have been good but Ismael is the BEST!" - Tery Brownell, Dept of Veterans Affairs
Online options available. Train from any location.
Upcoming Courses Taught By Justin Henderson and Ismael Valenzuela
| Type | Course / Location | Date | Register |
| --- | --- | --- | --- |
| OnDemand | Online | Anytime | |
*Course contents may vary depending upon location, see specific event description for details.