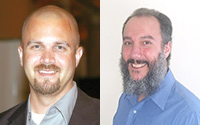 James Tarala and Brian Ventura
James Tarala
James Tarala is a principal consultant with Enclave Security and is based out of Venice, Florida. He is a regular speaker and senior instructor with the SANS Institute as well as a courseware author and editor for many SANS auditing and security courses. As a consultant, he has spent the past few years architecting large enterprise IT security and infrastructure architectures, specifically working with many Microsoft-based directory services, e-mail, terminal services, and wireless technologies. He has also spent a large amount of time consulting with organizations to assist them in their security management, operational practices, and regulatory compliance issues, and he often performs independent security audits and assists internal audit groups in developing their internal audit programs. James completed his undergraduate studies at Philadelphia Biblical University and his graduate work at the University of Maryland. He holds numerous professional certifications.
Here is What Students Say About James Tarala:
"James is very experienced and presents content very well. Good stories!" - Chris Pay, TrustedIA
"James is an amazing presenter, very fun to listen to on top of being knowledgeable." - Mike Pildher, URS Corp.
---
Brian Ventura
Brian Ventura is an Information Security Architect with more than 20 years of experience. With a diverse background in consulting, public and private sector, and project management, Brian brings a comprehensive view of security and technology. As an architect, current focus on enterprise information security governance, risk and compliance. Brian advises public entities and private companies on security best practices generally and within large projects.
Brian regularly speaks on the NIST CyberSecurity Framework, the CIS Controls and other security topics. Brian volunteers with ISSA and OWASP, focusing on educational opportunities and maturing the Information Security field.
Brian completed his bachelor of science in Information Technology ? Security from Western Governors University and holds various industry certifications including CISSP and various GIAC certifications.
Here is what people are saying:
"[Brian] did an absolutely wonderful job... very informative, and I learned a lot"
"great sense of humor"
"audience was definitely engaged"
"tremendously valuable"