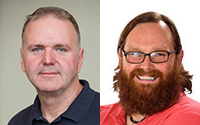 Eric Conrad and Seth Misenar
Eric Conrad
SANS Faculty Fellow Eric Conrad is the lead author of SANS MGT414: SANS Training Program for CISSP® Certification, and coauthor of both SANS SEC511: Continuous Monitoring and Security Operations and SANS SEC542: Web App Penetration Testing and Ethical Hacking. He is also the lead author of the books the CISSP Study Guide, and the Eleventh Hour CISSP: Study Guide.
Eric's career began in 1991 as a UNIX systems administrator for a small oceanographic communications company. He gained information security experience in a variety of industries, including research, education, power, Internet, and health care. He is now CTO of Backshore Communications, a company focusing on hunt teaming, intrusion detection, incident handling, and penetration testing. He is a graduate of the SANS Technology Institute with a master of science degree in information security engineering. In addition to the CISSP, he holds the prestigious GIAC Security Expert (GSE) certification as well as the GIAC GPEN, GCIH, GCIA, GCFA, GAWN, and GSEC certifications. Eric also blogs about information security at www.ericconrad.com.
Statements from SANS alumni regarding their training experience
"Eric is fantastic and does an excellent job relating the material to real-life examples." - Robby Croft, Brown Foreman
"I really love the opportunity to take a SANS course from an instructor that authored the material. Eric clearly knows this material inside & out." - Jesse Lane, IAG
---
Seth Misenar
Seth Misenar is a Cyber Security Expert who serves as a Faculty Fellow with the SANS Institute and Principal Consultant at Context Security, LLC.  He is numbered among the few security experts worldwide to have achieved the GIAC GSE (#28) credential. Seth teaches a variety of cyber security courses for the SANS Institute including two very popular courses for which he is lead author: the bestselling SEC511: Continuous Monitoring and Security Operations and SEC542: Web Application Penetration Testing and Ethical Hacking. 
Seth's background includes security research, network and web application penetration testing, intrusion analysis, incident response, and security architecture design. He has previously served as a security consultant for Fortune 100 companies, as well as the HIPAA Security Officer for a state government agency.
In addition to serving as lead author for two SANS classes, Seth also co-authored Syngress CISSP® Study Guide, now in its 3rd  Edition, the Eleventh Hour CISSP®: Study Guide and MGT414: SANS Training Program for CISSP® Certification.  Seth has a Bachelor of Science degree in Philosophy from Millsaps College and resides in Jackson, Mississippi with his wife, Rachel, and children, Jude, Hazel, and Shepherd.
Here is What Students Say About Seth Misenar:
"Seth's enthusiasm makes the class work very well. His knowledge is amazing and will certainly be taken back to work with me!" - Kevin Cowell, BT
Online options available. Train from any location.
Upcoming Courses Taught By Eric Conrad and Seth Misenar
| Type | Course / Location | Date | Register |
| --- | --- | --- | --- |
| OnDemand | Online | Anytime | |
*Course contents may vary depending upon location, see specific event description for details.