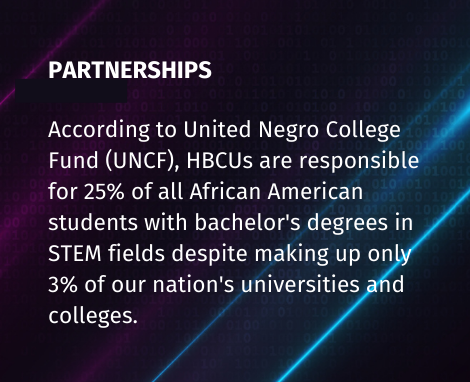 Why We Partner with HBCUs
SANS Institute's goal is to be intentional about developing a pipeline of Black excellence into the cybersecurity field and we believe the best way to do so is by establishing a meaningful relationship with some of the best Historically Black Colleges and Universities in the country.
SANS Institute's goal is to be intentional about developing a pipeline of Black excellence into the cybersecurity field and we believe the best way to do so is by establishing a meaningful relationship with some of the best Historically Black Colleges and Universities in the country.
As the largest provider of cybersecurity training and certification in the world, SANS Institute is partnering with various HBCUs in effort to level the playing field and provide Historically Black College and University students direct access to industry-leading training and certifications for free. SANS is in a unique position to assist in the challenge to diversify the field of cybersecurity and believes that to fill the employment gap in cybersecurity we must start at HBCUs.
According to United Negro College Fund (UNCF), HBCUs are responsible for 25% of all African American students with bachelor's degrees in STEM fields despite making up only 3% of our nation's universities and colleges. Establishing cybersecurity programs within HBCUs gives SANS the opportunity to work with large groups of innovative Black talent who are already on a path towards higher education, paving the road to a more diverse cybersecurity industry faster.
The intent is to understand the needs of our partner institutions and provide support through various resources such as:
Scholarships
Guest Lecturers/Speakers (Adjunct Support)
Paid Internships as lab technicians and courseware support
Mentorship and coaching with industry-leading instructors
Technology Package
Sponsored institution-wide Capture the Flag competitions
Free access to our SANS Summits
Free cyber camps for middle and high school students
SANS+HBCU scholarship academies includes free access to:
Pre-determined SANS courseware
GIAC Certification attempts
Current and future SANS Summits
SANS Subject-Matter Expert support
Private Slack channel for communication, collaboration, and questions
SANS+HBCU Partners
1. University of the Virgin Islands
As of March 2021
"This agreement between the University of the Virgin Islands and SANS Institute is an exceptional opportunity for students enrolled at UVI to complement their education with world-class experts through hands-on training which will lead to industry-grade certification in cybersecurity. The scholarships that will be awarded to three UVI students reaffirms SANS Institute's trust in the pool of talented youngsters in the U.S. Territory. SANS Institute's commitment will certainly strengthen the cybersecurity program at UVI and will encourage more talented Virgin Islanders to enter this exciting and competitive field. The Computer and Computational Science Department is honored to be part of this new innovative partnership and to contribute in preparing young people for regional and global cyber challenges." – Dr. Marc Boumedine, Associate Professor of Computer Science and Department Chair, University of Virgin Islands
About University of the Virgin Islands
Historically American. Uniquely Caribbean. Globally Interactive.
The University of the Virgin Islands (UVI) lies in the heart of the beautiful Caribbean. Although UVI is located in one of the most popular vacation spots in the world, it offers far more than just sun, sand and sea. The UVI experience is uniquely multi-cultural, international, entrepreneurial and intellectually stimulating. UVI provides a vital and exciting environment for educating future leaders of the global 21st century community. UVI offers a variety of degrees including 47 undergraduate and graduate programs through five schools and colleges: Business, Education, Liberal Arts and Social Sciences, Nursing, and Science and Mathematics. Four undergraduate certificates are also available: Entrepreneurship, Music Industry, Psychology, and Teaching English as a Second Language. In addition, there are four special programs: Honors Program, Secondary Teacher Preparation Program, Early Medical School Selection Program, and Senior Reserve Officers Training Corps (SROTC). (https://www.uvi.edu/)
2. Norfolk State University
As of August 2021
"The partnership between Norfolk State University and the SANS Institute will provide Spartans with the tools they need to be prepared as they enter the cybersecurity workforce. The NSU Cybersecurity Complex has a long history of educating students in information assurance fields and we support the HBCU Cyber Academy. This association will provide our students with the opportunity to leave with credible certifications in addition to their degree. The demand for cybersecurity careers is higher than ever due to increased cyber threats, and NSU and other HBCU students will be leaders in helping to find solutions to protect digital infrastructures against future cyber threats." — Dr. Javaune Adams-Gaston, President, Norfolk State University
About Norfolk State University
Norfolk State University is a comprehensive urban public institution that is committed to transforming students' lives through exemplary teaching, research, and service. Offering a supportive academic and culturally diverse environment for all, the University empowers its students to turn their aspirations into reality and achieve their full potential as well rounded, resourceful citizens and leaders for the 21st century. With annual operating revenues exceeding $196 million, and more than 1,200 employees and more than 30,000 alumni, NSU plays a vital economic and social role in the City of Norfolk, the Hampton Roads region, and across Virginia. (https://www.nsu.edu/)
Are you an HBCU interested in partnering with SANS Institute?