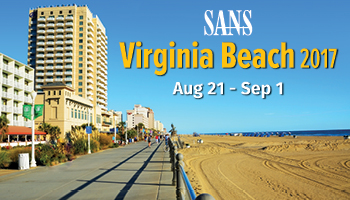 Cyber Security Training in Virginia Beach
16 InfoSec courses taught by the industry's top instructors aimed at all types of professionals
Choose from two weeks of training, Week 1: Aug. 21-26 | Week 2: Aug. 27 - Sept. 1
Participate in the Core NetWars Experience held each week
Information Security Training in Virginia Beach, VA
There are many layers to defense in-depth, but the most critical layer is you. Time and again, the difference between success and failure is not a product or a service; it is having the right people in the right places making the right decisions. Since information security is continually evolving, success requires committing to a career of learning, from the fundamentals to advanced techniques. To put you firmly on that learning path, please join us at SANS Virginia Beach 2017 (August 21-September 1).
"Top-notch instructors who are truly experts in their field, and have the teaching skills to convey the topic." - Steven Seifert, Eli Lilly and Company
Take advantage of these opportunities to get the most out of your training:
Two weeks of training offers you more choices. Take back-to-back courses, or choose between Week 1: Aug. 21-26 and Week 2: Aug. 27-Sept. 1.
NEW courses: SEC555: SIEM with Tactical Analytics; FOR610: Reverse-Engineering Malware: Malware Analysis Tools and Techniques; MGT517: Managing Security Operations: Detection, Response, and Intelligence
Distinguish yourself as an information security leader by preparing for your GIAC Certification.
Engage in two chances to challenge your skills at Core NetWars Experience - Aug. 24-25 and Aug. 30-31. FREE with any 4-6 day SANS course registration!
Network with like-minded security professionals facing similar challenges.
Attend evening bonus sessions led by SANS instructors and gain insight into the latest cybersecurity topics. Keynote will be "Quality not Quantity: Continuous Monitoring's Deadliest Events" by Eric Conrad.
Extend your SANS course by four months with an OnDemand Bundle.
Whichever course you select, SANS promises that you will be able to use what you learn as soon as you return to your office. Get the training you need to protect your organization and advance your career.
"This was the best SANS event I have ever attended. The course, staff and instructor were incredible, as always. The people I met at this event made this event stand out. I came out of the week of training with a few more good friends." - Ryan O'Connor, Intel Security
To follow or tweet about this event, use hashtag #SANSVaBeach. Follow SANS at http://twitter.com/SANSInstitute
Nothing beats the SANS live training experience but if you are unable to attend learn how you can
attend remotely
.