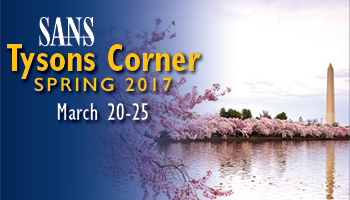 Welcome to Tysons Corner Spring 2017
8 courses
8 instructors
3 disciplines
Information Security Training in Tysons Corner, Virginia
Information security training in Tysons Corner from SANS Institute the global leader in Cybersecurity training.
Securing and defending your network has never been more important as attacks and breaches make the news daily. Gain the skills and tools you need to win the battle against the wide range of cyber adversaries who want to harm your environment by attending SANS Tysons Corner Spring 2017 (March 20-25).
Choose from several hands-on, intensive cyber security training courses. Multiple courses are aligned with GIAC certifications and several will prepare you or your technical staff for DoDD 8140.
SANS is the most trusted source in computer security training, certification, and research. Come see for yourself - register today for SANS Tysons Corner Spring 2017.
Here are some comments from our past SANS alumni: "The content and more importantly the instructor's presentation was exactly what I was looking for." - Gilbert Lappano, Northrop Grumman "The course is a comprehensive collection of list and useful informative tools that can be moved in the real day-to-day job." - Henry Jiang, Genworth Financial "You're getting training from an instructor that does this stuff every day and not from someone who just teaches. This is real life training." - Scott Avento, Alpine Cyber Solutions, LCC "This course is a must for cybersecurity professionals!" - Gary Oakley, BMPC "Best course ever and I can't wait to go back to my cases and apply this stuff!" - Rick K., USDOJ "Very engaging course. I was on the edge of my seat the entire time." - Carol Flamer, Vanguard