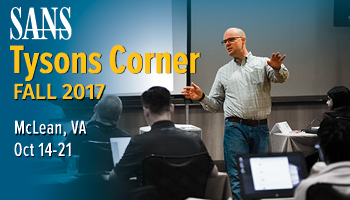 Cyber Security Training in McLean
Choose from 10 information security courses taught by real-world practitioners
Enhance your training by taking a 2-day course along with your 5- or 6-day course
Attend the keynote: "Everything You Ever Learned About Passwords Is Wrong", by Keith Palmgren
Information Security Training in McLean, VA
At SANS Tysons Corner Fall 2017 (October 14-21), get top-notch training from the best IT security instructors in the industry. Learn effective, actionable cyber security techniques crucial to combatting today's cyber threats.
"This training is comprehensive and inclusive." - Jim Clayton, Lockheed Martin
Take advantage of these opportunities to get the most out of your training:
Two-day courses can be taken at a reduced cost along with your 5- or 6-day course. Choose from SEC580: Metasploit Kung Fu for Enterprise Pen Testing or SEC564: Red Team Operations and Threat Emulation
Distinguish yourself as an information security leader by preparing for your GIAC Certification.
Network with like-minded security professionals facing similar challenges.
Attend evening bonus sessions led by SANS instructors and gain insight into the latest cyber security topics, including industrial control system security, ransomware and ShellBags.
Extend your SANS course by four months with an OnDemand Bundle.
Don't miss this opportunity to learn from the best, and gain knowledge you can put to work immediately.
"SANS training is very practical, and teaches you the tools and how to operate them." - Antonio Valente, Portuguese Air Force
To follow or tweet about this event, use hashtag #SANSTysons. Follow SANS at http://twitter.com/SANSInstitute