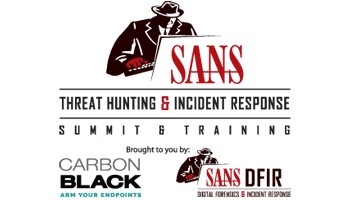 Welcome to Threat Hunting and IR Summit
7 courses
7 instructors
3 disciplines
Threat Hunting & Incident Response Summit 2016
Summit Dates: April 12-13
Training Course Dates: April 14-19
Will you be the Hunter or the Prey?
Over 80 percent of all breach victims learn of a compromise from third-party notifications, not from internal security teams. In most cases, advanced threats have been present in an organization for months prior to detection, yet those organizations are still caught by surprise when the breach is discovered.
Adversaries continue compromising hundreds of enterprise systems even though incident response tactics and procedures have evolved rapidly in recent years. Computer Incident Response Teams (CIRTs) can no longer afford antiquated incident response techniques that fail to properly identify compromised systems, effectively contain the breach, and rapidly remediate the incident.
The Threat Hunting & Incident Response Summit 2016 focuses on specific hunting and incident response techniques and capabilities that can be used to identify, contain, and eliminate adversaries targeting your networks. Attend this summit to learn these skills directly from incident response and detection experts who are uncovering and stopping the most recent, sophisticated, and dangerous attacks against organizations.
SANS, in collaboration with advisory partner Carbon Black, is launching the Threat Hunting & Incident Response Summit 2016 to address a gap in the security landscape. Join us in New Orleans on April 12-13, 2016, to learn hunting and response techniques and strategies from the greatest threat hunters and responders in the information security community. After the two day Summit, choose from five world class SANS courses that will be offered to help you expand your information security expertise. SANS instructors are experienced industry practitioners considered to be among the best cybersecurity instructors in the world. They will provide you and your community with the expert guidance and skills you need to stop cyber-attacks against your organizations.
Together, we defend as one!
Topics will include:
Adversary hunting
Threat containment
Effective remediation and threat elimination planning
Proactive digital forensics
Enterprise network and host monitoring
Threat intelligence utilization and usefulness
Incident response team operations and management
Who should attend?
Incident Response Team Members

who regularly respond to complex security incidents and intrusions by advanced persistent threat (APT) adversaries and need to know how to detect, investigate, remediate, and recover from compromised systems across an enterprise.

Security Operations Center Personnel and Information Security Practitioners

who support hunting operations that aim to identify attackers in their network environments.

Digital Forensic Analysts

who want to consolidate and expand their understanding of filesystem forensics, investigations of technically advanced adversaries, incident response tactics, and advanced intrusion investigations.

System Administrators

who are on the front lines defending their systems and responding to attacks

Federal Agents and Law Enforcement Officials

who want to master advanced intrusion investigations and incident response, as well as expand their investigative skills beyond traditional host-based digital forensics.
Special Thanks to the Threat Hunting & IR Summit Advisory Board:

Heather Adkins

Google

Ben Johnson

Carbon Black

Jesse Kornblum

Facebook

Rob Lee

SANS Institute

Bamm Visscher

General Motors
Special Offers for All Attendees!
This offer reduces the Summit registration fee from $1,595 to $1,095 when purchased in conjunction with a
full price
4-6 day course a savings of $500! The discount is automatically applied when the Summit and a qualifying course are both selected during registration.
Note - Early bird course discounts do not apply with this bundle offer.