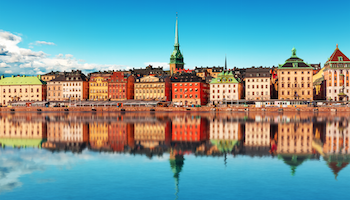 Welcome to Stockholm 2017
6 courses
5 instructors
3 disciplines
Cyber Security Training in Stockholm 2017
SANS Stockholm 2017 takes place 29 May - 3 June, at the Radisson Blu Waterfront Hotel.
Choose from 6 hands-on cyber security courses.
Prepare for: GSEC, GWAPT, GAWN, GNFA and GSSP-.NET Certifications.
Take SANS Training in a classroom-like environment and under the supervision of a SANS Instructor.
The Radisson Blue Waterfront Hotel is adjacent to the Waterfront Congress Centre and Central station.
Instructors Teaching at SANS Stockholm 2017
The following SANS Instructors will be teaching courses in Stockholm:
Philip Hagen - Philip began his security career in the US Air Force Academy, has worked in IT security since 1998 and is FOR572's co-author.
Ian Reynolds - Over the last two decades Ian has worked across multiple IT disciplines with businesses from a myriad of sectors. He holds several certifications from GIAC as well as a CISSP, a CISM, a number of vendor certifications and is a member of the GIAC Advisory Board. More recently his primary focus has been to help businesses develop a deeper understanding of the threats facing their operations and enhance their security posture.
Eric Johnson - Eric is a Senior Security Consultant at Cypress Data Defense and the Application Security Curriculum Product Manager at SANS.
James Leyte-Vidal - James is a team lead in a Fortune 100 company, currently focused on remediation efforts and control monitoring. James holds the GCIH, GPEN, GWAPT, GAWN, GXPN, GCIA, GCFA, GMOB, GSEC, CISSP, MCSE, and CISA certifications as well as degrees in IT and Psychology.
Hassan El-Hadary: Hassan, an experienced security professional, currently heads the application security assessment and code review team at SecureMisr. He is also responsible for performing penetration tests as well as advising customers in the areas of PCI-DSS and PCI-PIN Security Compliance Requirements. Hassan received his Master's degree in Computer Science from the American University in Cairo with a Thesis in the field of Secure Software Engineering.