MGT525: IT Project Management and Effective Communication
Mon, May 10 - Sat, May 15, 2021
Associated Certification: GIAC Certified Project Manager (GCPM)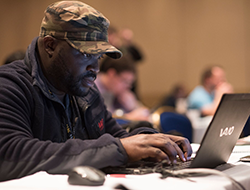 NOITCE TO STUDENTS:
The PMP&reg exam is changing versions on Jan 2, 2021.
As of Jan 1, 2021, SANS MGT525 will no longer be an official PMP&reg Prep course.
The name of the course is updating to MGT525: IT Project Management and Effective Communication.
Managing Security Initiatives And IT Projects
SANS MGT525: IT Project Management and Effective Communication provides the training necessary to maintain the Project Management Professional (PMP)® and other professional credentials.
During this class you will learn how to improve your project planning methodology and project task scheduling to get the most out of your critical IT resources. We will utilize project case studies that highlight information technology services as deliverables. MGT525 follows the basic project management structure from the PMBOK® Guide and also provides specific techniques for success with information assurance initiatives. Throughout the week, we will cover all aspects of IT project management from initiating and planning projects through managing cost, time, and quality while your project is active, to completing, closing, and documenting as your project finishes. A copy of the PMBOK® Guide is provided to all participants. You can reference the PMBOK® Guide and use your course material along with the knowledge you gain in class to prepare for the GIAC Certified Project Manager Exam and earn PDUs/CPEs to maintain the Project Management Professional (PMP)ĆĀ® and other professional credentials.
The project management process is broken down into core process groups that can be applied across multiple areas of any project, in any industry. Although our primary focus is the application to the InfoSec industry, our approach is transferable to any projects that create and maintain services as well as general product development. We cover in-depth how cost, time, quality, and risks affect the services we provide to others. We will also address practical human resource management as well as effective communication and conflict resolution. You will learn specific tools to bridge the communications gap between managers and technical staff.
NOTE: PMP® and PMBOK® are registered marks of the Project Management Institute, Inc. PMP® exams are not hosted by SANS. You will need to make separate arrangements to take the PMP® exam and this course is not an official PMP® prep class.
This Course Will Prepare You to:
Recognize the top failure mechanisms related to IT and infosec projects, so that your projects can avoid common pitfalls
Create a project charter which defines the project sponsor and stakeholder involvement
Document project requirements and create requirements traceability matrix to track changes throughout the project lifecycle
Clearly define the scope of a project in terms of cost, schedule and technical deliverables
Create a work breakdown structure defining work packages, project deliverables and acceptance criteria
Develop a detailed project schedule, including critical path tasks and milestones
Develop a detailed project budget including cost baselines and tracking mechanisms
Develop planned and earned value metrics for your project deliverables and automate reporting functions
Effectively manage conflict situations and build communication skills with your project team
Document project risks in terms of probability and impact, assign triggers and risk response responsibilities
Create project earned value baselines and project schedule and cost forecasts
What You Will Receive
Printed and Electronic Courseware
MP3 audio files of the course
PMBOK® Guide
Additional Resources
What To Take Next
Course Syllabus
Additional Information
What students are saying:
"If you do project management, this is the formal training you need. Jeff does a great job covering everything from A - Z ensuring everyone has a firm understanding." - Belle Sandlin, US Army Space Command
"I've been managing multi-million dollar projects for years but always felt muddled as to the formal activities required. After the SANS MGT525 project management course, things have become clear at last." - Matt Harvey, US DOJ
Security professionals who are interested in understanding the concepts of IT project management
Managers who want to understand the critical areas of making projects successful
Individuals working with time, cost, quality, and risk sensitive projects and applications
Anyone who would like to utilize effective communication techniques and proven methods to relate better to people
Anyone in a key or lead engineering/design position who works regularly with project management staff.
Individuals interested in preparing for the Project Management Professional (PMP)® Exam
"I am gaining so much knowledge from this course via the instructor and the exceptional course material." - Lakendrick Fisher, USAF
Previous attendees include:
Chief Security Officers
Chief Information Security Officers
Chief Information Officers
Chief Risk Officers
Information Assurance Officers
Program Managers
IT Directors
Engineers
Network Systems Analysts
IT Project Managers
Auditors
Government Program Managers
R&D Project Managers
Software and System Developers
IT Compliance Managers
Security Specialists
Security Architects
Security Operation Center Managers
Information Security Analysts
Systems Administrators
Incident Response Analysts
Author Statement
Managing projects to completion, with an alert eye on quality, cost, and time, is something most of us need to do on an ongoing basis. In this course, we break down project management into its fundamental components and galvanize your understanding of the key concepts with an emphasis on practical application and execution of service-based IT and InfoSec projects. Since project managers spend the vast majority of their time communicating with others, throughout the week we focus on traits and techniques that enable effective technical communication. As people are the most critical asset in the project management process, effective and thorough communication is essential.
"Jeff Frisk did a wonderful job keeping my attention throughout the entire course and delivered great insight into project management concepts. Highly would recommend anyone to have him as an instructor." - Matthew Aloia, US Military