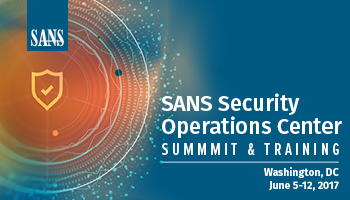 Welcome to Security Operations Center Summit
Two days of in-depth SOC talks
Five hands-on, immersion-style courses
Exclusive networking opportunities
SANS SOC Summit
Summit Dates: June 5 - 6, 2017 Training Course Dates: June 7- June 12, 2017
In light of numerous recent high-profile attacks and data breaches, Security Operations Centers are taking on a more prominent role in organizations as executives aim to improve their security programs. While a Security Operations Center (SOC) is capable of improving security, effectively implementing and managing the many functions of a SOC can be a major challenge. Information security managers must balance people, process, and procedure in order to operate a SOC that is effective and works within the constraints of the organization.
The Security Operations Center Summit will bring together top experts for two days of in-depth talks and panel discussions around building, operating, and maturing a SOC. Attendees will hear from and interact with top experts who have faced many of the same challenges SOCs encounter within their organizations.
Security Operations Center Summit Topics and Discussions:
Active defense
Metrics to measure success of your SOC
Critical security controls
Identifying and retaining talent
Integrated security defenses
Enterprise network and host monitoring
Threat intelligence utilization and usefulness
Incident response team operations and management
Who should attend:
SOC Managers, Analysts, and Engineers
Information Security Managers
CISOs
Operations Managers
Risk Management Professionals
IT/System Administration/Network Administration professionals
IT Auditors
Incident Response Managers
"Not only were the speakers excellent, the opportunity to network with not only industry leaders but those who literally "wrote the book" on security operations was invaluable!" - Carlton J. Powers of Inovalon, Inc. on SANS 2015 SOC Summit.