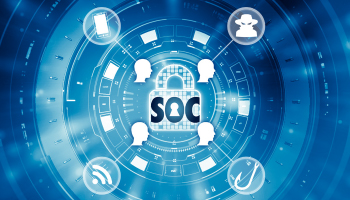 Welcome to SOC Summit
4 courses
5 instructors
1 disciplines
SANS SOC Summit
Training Course Dates: May 19- 24
Summit Dates: May 25-26
The Challenge:
Every organization faces the challenge of establishing effective security operations. As we see regularly in the news, the number of successful data breaches continues to increase and executives are demanding that their security teams provide enhanced security posturing, monitoring, and detection to stop these threats.
For security to work effectively, teams must be integrated across the entire organization, and they must work in concert when the detection team identifies a potential incident. By creating, developing, and formalizing a Security Operations Center (SOC) organizations are able to provide a central command environment for all of the security teams to work together, share information and intelligence, and respond quickly to security incidents in a holistic fashion.
The Summit:
At the SOC Summit, professionals and experts will share their experiences with building out an organizations' security operations center and best practices on increasing the efficiencies and effectiveness of response. Experts will present case studies to help you identify gaps in your SOC, use threat intelligence effectively, and develop meaningful metrics to define your SOC's success. You'll also learn how to identify and retain the talent you need to help your SOC evolve along with the dynamic threat landscape.
You'll take away new ideas from the SOC Summit from the best minds in the business, but also from others who have faced similar challenges in increasing their enterprise's situational awareness and monitoring and responding to threats.
"Not only were the speakers excellent, the opportunity to network with not only industry leaders but those who literally "wrote the book" on security operations was invaluable!"
- Carlton J. Powers of Inovalon, Inc. on SANS 2015 SOC Summit.
Topics will include:
Continuous monitoring
Active defense
Metrics to measure success of your SOC
Security metrics
Critical security controls
Identify and retain talent
Integrated security defenses
Enterprise network and host monitoring
Security reporting
Threat intelligence utilization and usefulness
Incident response team operations and management
---
Co-Chair Biographies

Mary Chaney is the Director of the Security Operations Center for Johnson & Johnson. Prior to joining J&J, Mary was the Director of Incident and Data Management for GE Capital. Mary is a former Special Agent for the FBI where she investigated Cybercrime and also acted as the Information Systems Security Officer (ISSO) for the Los Angles Field Division. She also held an adjunct professor role at the University of Cincinnati where she assisted with the establishment of their Cybersecurity Certificate program. She holds her CISSP certification, is a graduate of Xavier University in Cincinnati, Ohio with a B.S.B.A in Information Systems and is a licensed attorney in the State of Texas.

Since he founded one of the first IT Security consultancies in Spain, Ismael Valenzuela has participated as a security professional in numerous projects across the globe in the last 15 years. He currently works as IR/Forensics Technical Practice Manager at Intel Security in North America. Prior to joining Intel, Ismael worked as Global IT Security Manager for iSOFT Group Ltd, one of the world's largest providers of healthcare IT solutions.
He holds a bachelor's degree in computer science from the University of Malaga (Spain), is certified in Business Administration, and holds many professional certifications including the highly regarded GIAC Security Expert (GSE #132) in addition to GREM, GCFA, GCIA, GCIH, GPEN, GCUX, GCWN, GWAPT, GSNA, CISSP, ITIL, CISM and IRCA 27001 Lead Auditor from Bureau Veritas UK.
Some of his articles are freely available at http://blog.ismaelvalenzuela.com.
Mr. Valenzuela can be followed on twitter at @aboutsecurity.
.