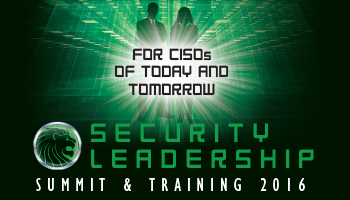 Welcome to Security Leadership Summit
4 courses
4 instructors
2 disciplines
Security Leadership Summit
Summit Dates: September 27-28, 2016 Training Course Dates: September 29-October 4, 2016
As an information security leader, you have a critical responsibility to your organization. You are expected to support the company's mission and stakeholders by managing a team of IT security professionals tasked with defending the organization from a constant stream of emerging threats. It's a tall order that requires vast technical knowledge along with a wide range of strategic and interpersonal skills.
The Security Leadership Summit's aim is for you to explore and take away ideas that will help you succeed in securing your organization. SANS will bring together top security leaders and experts for two days of in-depth talks loaded with crucial insights, experiences, and advice. During the event, you will have the opportunity to engage with top experts and network with fellow CISOs and security leaders. Time and again, we have been told by attendees that the connections made at the summit have been invaluable to their careers.
Topics and themes to be explored include:
The evolving roles of security and privacy offers
Managing metrics for strategic decision-making
Best practices for briefing executive boards on security issues
Recruiting and retaining talented cybersecurity professionals
Managing legal risk in a data breach
Crisis communications for incident response
Creating an authoritative leadership persona
After the summit, take one of five SANS courses and learn from the top experts in information security and management.
Co-Chair Biographies

As CISO at the SANS Institute Frank leads the security risk function for the most trusted source of computer security training, certification, and research in the world. He also helps shape, develop, and support the next generation of security leaders through teaching, developing courseware, and leading the management and software security curricula.
Prior to the SANS Institute, Frank was Executive Director of Cyber Security at Kaiser Permanente with accountability for delivering innovative security solutions to meet the unique needs of the nation's largest not-for-profit health plan and integrated health care provider with annual revenue of $55 billion, 9.5 million members, and 175,000 employees. In recognition of his work, Frank was a two-time recipient of the CIO Achievement Award for business enabling thought leadership.
Frank holds degrees from the University of California at Berkeley and is a SANS certified instructor as well as the author of popular courseware on strategic planning, leadership, and application security.
"Frank did a great job of providing examples and encouraging discussion." - Andy Thomas, VF
Katherine Fithen has been a leader in information security for more than 20 years. She is currently the Chief Privacy Officer and Director of Governance & Compliance at The Coca-Cola Company. Prior to joining The Coca-Cola Company in 2002, Katherine was the Senior Manager of the CSIRT Program at PricewaterhouseCoopers, LLP, and prior to pwc, the Manager of the CERTŪ. Katherine has earned a Bachelor of Arts in Retail Management, a Master of Arts in Personnel Management, and a Master of Science in Information Science.
Katherine is on several advisory boards for privacy and security. In August 2015, Katherine was listed as one of "Women in IT Security: 10 Power Players".