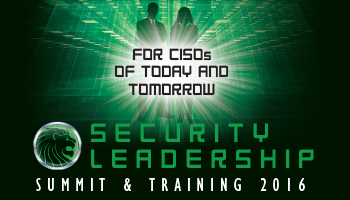 Welcome to Security Leadership Summit
6 courses
6 instructors
3 disciplines
Security Leadership Summit
Training Course Dates: December 3-8, 2015 Summit Dates: December 9-10, 2015
CISOs must manage budgets, garner support from non-technical executive management and stakeholders, oversee a team of IT security professionals, support and enable the latest business innovations, and - oh yeah - keep the organization safe from hacks, intrusions, APT, malware and a constant stream of emerging threats. It's a tall order, one that requires both a breadth and depth of technical knowledge, experience and leadership skill.
At this summit, Security Leaders and SANS subject matter experts will provide crucial insights, advice and experiences relevant for both current and aspiring CISOs. The format will partner senior CISOs and security leaders with SANS experts, pairing experiences, best practices, lessons learned (the hard way), and career advice, with depth on key security topics and emerging trends... So you can stay ahead of the curve - and impress your management.
Topics and themes to be explored include:
Building an effective CISO/CEO relationship
Getting board and executive buy-in for your security program
Effective Cyber Threat Intelligence
Incident response
Product and application security lessons learned
Legal Perspectives: Cyber Investigations, Ethics, and Evidence
The Road to Becoming a CISO
Developing Cyber Talent and working with HR
Attendees will have the opportunity to explore a variety of topics, in both security and management, and network with CISOs, SANS experts, and peers to gain an in-depth understanding of what it takes to succeed as a CISO.
Special Offers for All Attendees!
This offer reduces the Summit registration fee from $1,495 to $995 when purchased in conjunction with a
full price
4-6 day course a savings of $500! The discount is automatically applied when the Summit and a qualifying course are both selected during registration.
Note - Early bird course discounts do not apply with this bundle offer.