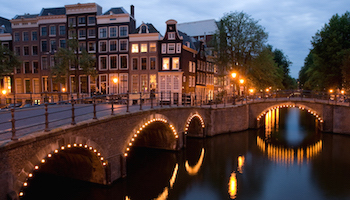 Welcome to Secure Europe 2016
8 courses
8 instructors
2 disciplines
Cyber Security Training In Amsterdam
SANS Secure Europe offers eight training courses drawn from across the SANS curriculum.
** Registrations at SANS Secure Europe are billed without VAT **
This IT security-training event takes place between 4th and 16th April, at the Radisson Blu hotel in Amsterdam with four courses running in week 1 and four in week 2.
Choose from eight intensive SANS courses
Learn in a classroom environment, under the guidance of SANS Instructors
SANS Secure Europe runs across two weeks allowing students to take two SANS training courses consecutively, and in one location (schedule allowing).
Secure Europe's roster of Instructors includes Senior Instructors and Course Authors.
This event features networking opportunities and supplementary evening cyber security talks and sessions.
See the training line-up below for full course descriptions and click Register Now (top right) to reserve your seat.
Instructors Teaching in SANS Secure Europe 2016
The following qualified SANS Instructors will be leading training:
Stephen Sims: Stephen is an expert consultant who performs reverse engineering, exploit development, threat modelling and penetration testing. He is author of SEC760: Advanced Exploit Development and lead author on SEC660: Advanced Penetration Testing, Exploits, and Ethical Hacking.
Paul A. Henry: With over 30 years of experience, Paul has played a key role in launching new network security initiatives and advises on many high-risk projects.
Jess Garcia: As an internationally renowned forensics and cyber security expert, Jess has over 20 years frontline experience.
James Tarala: A widely experienced consultant who currently architects enterprise security infrastructures. James writes and edits many SANS audit and security courses.
Rob Lee: Rob began his cyber security career in the US Air Force and now has over 15 years of front-line forensic experience. Rob is the Curriculum Lead and author for digital forensic and incident response training at the SANS Institute.
Philip Hagen: Philip's career began in 1988 and spans forensics, management and executive responsibilities. Philip is FOR572's course lead and co-author.
Ian Reynolds - With over two decades of experience spanning many IT disciplines, Ian today helps businesses develop a deeper understanding of security. He is a member of the GIAC Advisory Board.
Prove Skills - Get Certified
The SANS courses at Secure Europe are all aligned to a GIAC certification. GIAC Certification validates the hands-on skills of cyber security professionals. The GIAC examination attempt and OnDemand bundle are available at a reduced rate when purchased with training.
See the GIAC certification related to each course in the 'Available Courses' table below.