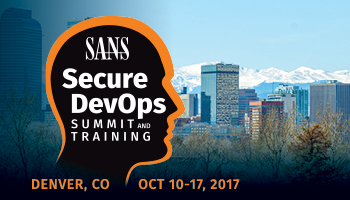 Secure DevOps Summit & Training
Two days of in-depth Secure DevOps Summit talks
Four hands-on courses following the Summit
Exclusive networking opportunities
Secure DevOps Summit & Training
Summit Co-Chairs: Frank Kim and Eric Johnson CPE Credits: 16 Summit Dates: October 10-11, 2017
Training Course Dates: October 12-17, 2017

Attend the inaugural SANS Secure DevOps Summit and learn strategies for reinventing security in a DevOps world.
DevOps is radically changing the way that organizations design, build, deploy, and operate online systems. DevOps leaders like Amazon, Etsy, and Netflix are able to deploy hundreds or even thousands of changes every day, continuously learning, improving, and growing - and leaving their competitors far behind. Now DevOps is making its way from Internet "unicorns" and cloud providers into enterprises.
Traditional approaches to security can't come close to keeping up with this rate of accelerated change. Engineering and operations teams have broken down "the walls of confusion" between their organizations and are increasingly leveraging new kinds of automation: Infrastructure as Code, Continuous Delivery and Continuous Deployment, microservices, containers, and cloud service platforms.
Secure DevOps Summit Sneak Peek
Who should attend?
Security and technology professionals who need to transform their security and IT organizations to take advantage of changes being brought about by DevOps.
Security Engineers/Architects Learn how security can move at the speed of DevOps
Network and System Administrators Understand infrastructure as code and how to implement continuous monitoring
DevOps Engineers Learn key security practices to build into your CI/CD pipeline
Technical Auditors/Consultants Gain a deeper understanding of DevOps and associated security practices
Security and IT Leaders Understand the risks and opportunities associated with the move to DevOps