SEC760: Advanced Exploit Development for Penetration Testers
Beta
Mon, October 14 - Sat, October 19, 2013
SEC760 is straight black magic! The course was awesome!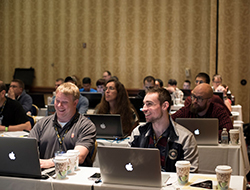 Vulnerabilities in modern operating systems such as Microsoft Windows 7/8, Server 2012, and the latest Linux distributions are often very complex and subtle. Yet, they could expose organizations to significant attacks, undermining their defenses when wielded by very skilled attackers. Few security professionals have the skillset to discover let alone even understand at a fundamental level why the vulnerability exists and how to write an exploit to compromise it. Conversely, attackers must maintain this skillset regardless of the increased complexity. SANS SEC760: Advanced Exploit Development for Penetration Testers teaches the skills required to reverse engineer 32-bit and 64-bit applications, perform remote user application and kernel debugging, analyze patches for 1-day exploits, and write complex exploits, such as use-after-free attacks, against modern software and operating systems.
You Will Learn:
How to write modern exploits against the Windows 7 and 8 operating systems.
How to perform complex attacks such as use-after-free, Kernel exploit techniques, one-day exploitation through patch analysis, and other advanced topics.
The importance of utilizing a Security Development Lifecycle (SDL) or Secure SDLC, along with Threat Modeling.
How to effectively utilize various debuggers and plug-ins to improve vulnerability research and speed.
How to deal with modern exploit mitigation controls aimed at thwarting success and defeating determination.
Notice:
This course does not qualify for any additional discounts as it is being offered at a special beta rate in exchange for your feedback.
Course Syllabus
Additional Information
You must bring and will use VMware to run multiple operating systems when performing class exercises. Linux VM's with all necessary tools will be provided on a DVD on the first day. Tools needed for Windows will be issued in class; however, you are required to build and bring the Windows virtual machines as listed below under Option 1 or Option 2. The VMâÂÂs must be unpatched as we will be installing and removing patches in class. If possible, please ensure you bring the English Language Pack versions of the designated Windows VMâÂÂs so that everyone is running the same images. If you choose to, or are unable to bring the specified OS and/or Service Pack versions, you may experience different outcomes during exercises.
Ensure that you have the administrative ability to disable all security software and protections, including antivirus and personal firewalls. You will not be able to complete the exercises without this level of control. Also ensure that you can install software that may be blocked by administrative or security controls due to their nature. You will be installing various debuggers and vulnerable applications onto the VM's. Please adhere to the following:
4GB+ of Physical Memory (RAM), preferably 8GB â 16GB.
VMware Workstation, Fusion, or Player. A 30-day free trial is available at http://www.vmware.com. VirtualBox is also acceptable, though not thoroughly tested.

The following three (Unpatched, base install) virtual machines. This is mandatory!

Option 1:

Windows XP SP3, Windows 7 32-bit (SP0 or SP1), and Windows 7 64-bit (SP0 or SP1)

Option 2:

Windows XP SP3, Windows 7 32-bit (SP0 or SP1, and Windows 8 64-bit (SP0)

50GB of free hard disk space.
PIII 1Ghz CPU Minimum / M Series 1.5 GHz or higher is recommended
It is strongly recommended that you bring a licensed version of IDA Pro. A 20% discount is available to students signing up for SEC760. Please e-mail the course author, Stephen Sims, at stephen@deadlisting.com. You may choose not to purchase a license and use only the trial and free versions; however, you will not be able to complete some of the exercises as these versions have limitations.
If you have additional questions about the laptop specifications, please contact laptop_prep@sans.org.
Senior Network and System Penetration Testers
Secure Application Developers â (C & C++)
Reverse Engineering Professionals
Senior Incident Handlers
Senior Threat Analysts
Vulnerability Researchers
Security Researchers
Previous exploit-writing experience is required, such as those techniques covered in SANS SEC660: Advanced Penetration Testing, Exploits, and Ethical Hacking. This includes experience with stack-based buffer overflows on both Linux and Windows, as well as experience defeating modern exploit mitigation controls such as DEP, ASLR, canaries, and SafeSEH. Experience with various fuzzing tools such as the Sulley Fuzzing Framework is required. Programming experience is important, preferably with C/C++. At a minimum, scripting experience in a language such as Python, Perl, Ruby, or LUA is mandatory. Programming fundamentals such as functions, pointers, calling conventions, structures, etc⦠is mandatory and will be assumed knowledge. Experience with reverse engineering vulnerable code is also required, as is the ability to read x86 disassembly from within a debugger or disassembler. Experience with both Linux and Windows navigation is required, as well as TCP/IP experience. Failure to meet these requirements may result in the inability to keep up with the pace of the course.
Courses that Lead-in:
SEC660 â Advanced Penetration Testing, Exploits, and Ethical Hacking
FOR610 â Reverse Engineering Malware
FOR526 â Windows Memory Forensics In-Depth
Courses that are Pre-reqs:
SEC660 â Advanced Penetration Testing, Exploits, and Ethical Hacking
You will receive various preconfigured *NIX virtual machines; however, you are required to bring the aforementioned Windows VMâÂÂs.
You will receive various tools on a course DVD that are required for use in class.
How to how to discover zero-day vulnerabilities in programs running on fully-patched modern operating systems.
How to create exploits to take advantage of vulnerabilities through a detailed penetration testing process.
How to use the advanced features of IDA Pro and write your own IDC and IDA Python scripts.
How to perform remote debugging of Linux and Windows applications.
How to understand and exploit Linux heap overflows.
How to write Return Oriented Shellcode.
How to perform patch diffing against programs, libraries, and drivers to find patched vulnerabilities.
How to perform Windows heap overflows and use-after-free attacks.
How to use precision heap sprays to improve exploitability.
How to perform Windows Kernel debugging up through Windows 8 64-bit.
Jump into Windows kernel exploitation.
You will be performing labls to reverse engineer several Microsoft patches from 2013 to identify the patched vulnerability, as well as take them through exploitation.
You will perform use-after-free exploit labs against popular web browsers such as Internet Explorer.
You will be remote-debugging both Linux and Windows applications, as well as remote-debugging the Windows 7 and 8 Kernels.
Author Statement
As a perpetual student of information security, I am excited to offer this course on advanced Exploit Writing for Penetration Testers. Exploit development is a hot topic as of late and will continue to grow moving forward. With all of the modern exploit mitigation controls offered by operating systems such as Windows 7 and 8, the number of experts with the skills to produce working exploits is highly limited. More and more companies are hiring to fill experts with the ability to aid in a Secure-SDLC process, perform threat modeling, determine if vulnerabilities are exploitable, and perform security research. This course was written to help you get into these highly sought after positions and to teach you cutting edge tricks to thoroughly evaluate a target, providing you with the skills to improve your exploit development. Contact me at stephen@deadlisting.com if you have any questions about the course! -Stephen Sims