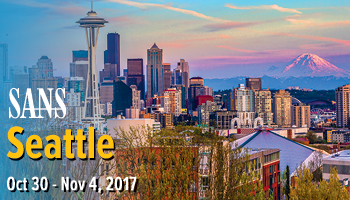 Train in Downtown Seattle
Choose from seven information security courses taught by leading industry experts
Attend SANS@Night Bonus Session: "Infosec State of the Union" by Jake Williams
NEW course: SEC503: Intrusion Detection In-Depth, taught by Adrien de Beaupre
Information Security Training in Seattle, Washington
Develop much-needed skills to protect against today's cyber-attacks. Join us for SANS Seattle 2017 (Oct 30-Nov 4), and get hands-on training needed to sharpen your skills and accelerate your cyber security career.
"This course has A LOT of quality content. The instructor's knowledge is very extensive and a great supplement to the course." - Tyler Jarmon, Amazon
Take advantage of these opportunities to get the most out of your training:
Distinguish yourself as an information security leader by preparing for your GIAC Certification.
Network with like-minded security professionals facing similar challenges.
Attend evening bonus sessions led by SANS instructors and gain insight into the latest cyber security topics, including exploiting stack overflows and how to leverage Mitre's ATT&CK™ Framework.
Extend your SANS course by four months with an OnDemand Bundle.
Register for training from the industry's top cyber security practitioners, and learn to more effectively combat the growing wave of breaches and cyber-attacks.
"An extremely valuable experience covering many practical examples and useful suggestion of actionable content." - Neal Smyth, HSBC
To follow or tweet about this event, use hashtag #SANSSeattle. Follow SANS at http://twitter.com/SANSInstitute