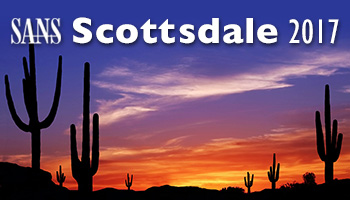 Welcome to Scottsdale 2017
8 courses
8 instructors
3 disciplines
Information Security Training in Scottsdale, Arizona
Information security training in Scottsdale from SANS Institute, the global leader in information security training. SANS is returning to Arizona, February 20-25, for SANS Scottsdale 2017! Choose from eight hands-on, immersion-style security training courses all taught by real-world practitioners. All are aligned with GIAC certifications and several courses will prepare you or your technical staff for DoDD 8140.
SANS is looking forward to returning to this warm desert city with its amazing views of the Camelback Mountains. The Hilton Scottsdale Resort and Villas are within minutes of shopping, dining, world-class golf, and business districts. Now is the time to improve your information security skills while you enjoy this winter destination and soak up some rays in the "Valley of the Sun."
With a reputation for being the most trusted source for information security training and an eagerness to help you meet your training objectives, SANS is the best choice for IT security education. Be sure to register early to get the best discount and to enjoy this warm winter destination!
Here's what past Scottsdale alumni said about the value of SANS training:

"This was my first SANS course so I have no comparison to any other SANS class. For me the class out line was very specific to my job so it was money well spent." - Randy Mosso, ADT Security

"I work in net security... with a lot of tools. Seth provided a great perspective on the state of cyber defense and how we should be approaching it." - Kevin South, Navient

"This course will allow me to directly apply this knowledge to incident handling of work." - Richard Clark, Tucson Electric Power

"The methods taught and the tools introduced will be very beneficial to me as an analyst performing examinations. The security gained from applying all of this will be very useful." - Joseph Selph, IBM
Nothing beats the SANS live training experience but if you are unable to attend learn how you can
attend remotely
.