Onapsis: Securing SAP Platforms - Hands-on Security Techniques to Protect Business-Critical Infrastructure from Cyber-attacks
Sat, June 21 - Sun, June 22, 2014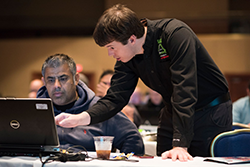 This course provides the latest information on SAP-specific cyber-attacks and protection techniques. SAP platforms contain the business-critical information of the largest organizations in the world. While leading companies are protecting their businesses from modern threats against ERP systems, there are still many who are prone to SAP application-layer vulnerabilities that are exposing them to espionage, sabotage and financial fraud attacks. In this intensive hands-on course, with over ten (10) live demonstrations and numerous exercises (20), the training will help you answer the following questions:
Do you know how to assess or check whether the organization√ʬ¬s SAP Platform is secure?
What is the potential impact to the organization if its SAP Platform is attacked?
Do you know how to prevent the attacks?
What are the best practices to effectively mitigate them and protect business-critical information?
Utilizing √ʬ¬FREE√ʬ¬ tools are an important part of the course and you will learn to master Onapsis√ʬ¬ Bizploit, the first open-source ERP penetration testing framework. You get real-time feedback on whether your systems are exposed to the critical attack vectors. The hands-on exercises will teach you the industry-standard methodology to perform SAP application vulnerability assessments, security audits, and penetration tests.
The training you will receive in this course is unique and valuable because the instructors have worked with some of the largest companies (thousands of SAP users) in the world, understand how SAP systems function in the real world, and stay up-to-date on common attacks and threats. They have evaluated over 2,000 SAP Application Servers, and 95% are exposed to espionage, sabotage, and fraud.
You will understand why Segregation of Duties controls (enforced by strict SAP user roles and profiles) are not enough to protect an SAP system, and how malicious hackers could break into unsecured systems anonymously, even without having a valid user. With a unique focus on the SAP application layer, you will learn the key security aspects of several SAP proprietary components and technologies, such as the SAProuter, SAP Web Dispatcher, SAP Gateway, SAP Message Server, SAP Web Applications (Enterprise Portal, WebAS and ITS), the SAP RFC and P4 interfaces, SAP Solution Manager, SAP Management Console, SAP-specific backdoors and rootkits, SAP forensics, ABAP code vulnerabilities and much more!
Previous SAP expertise is NOT required!
Course Syllabus
Juan Perez-Etchegoyen
,
Marc Roy
Sat Jun 21st, 2014
9:00 AM - 5:00 PM
---
Topics
Introduction to SAP
Threats
Onapsis Bizploit √ʬ¬ The ERP Penetration Testing Framework
Security of the Environment
Secure Architecture
SAP Application Level Gateways
The SAProuter
The SAP Web Dispatcher
Security of SAP on Windows environments
Security of SAP on UNIX environments
Security of SAP with MS SQL Server databases
Security of SAP with Oracle databases
Security of the SAP Application Layer
Authentication Mechanisms
User Security
Password Policies
Authorization Concept
Juan Perez-Etchegoyen
,
Marc Roy
Sun Jun 22nd, 2014
9:00 AM - 5:00 PM
---
Topics
Security of the SAP Application Layer
RFC and Gateway Security
Encryption
ABAP (In)Security
SAP Backdoors and Rootkits
SAP Management Console
SAP Netweaver JAVA Application Server
SAP Web Application Security
SAP Internet Transaction Server (ITS)
SAP Web Application Server (WebAS)
SAP NetWeaver JAVA & Portal (EP)
Transport Management System
Landscape Configuration
Solution Manager
SAP Forensics
The Audit Security Log
The Audit Information System
Opensource and Commercial Software
Additional Information
Students Must Furnish:
Personal laptop
SSH client
SAPGUI
If you have additional questions about the laptop specifications, please contact laptop_prep@sans.org.
Information Security Professionals
Security Managers
Information Assurance & Compliance Professionals
Internal Auditors
IT/Security Auditors
General Information Security knowledge. No SAP experience is required.
Slides handouts, Cheat-sheets, DVD with free tools.