SEC617: Wireless Ethical Hacking, Penetration Testing, and Defenses
Mon, June 17 - Sat, June 22, 2013
SEC617 is great for someone looking for a top-to-bottom rundown of wireless attacks.

The training in SEC617 is going to make our wireless and penetration testing assessments much easier.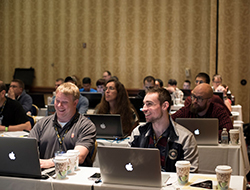 Despite the security concerns many of us share regarding wireless technology, it is here to stay. In fact, not only is wireless here to stay, but it is growing in deployment and utilization with wireless LAN technology and WiFi as well as with other applications, including cordless telephones, smart homes, embedded devices, and more. Technologies like ZigBee and Z-Wave offer new methods of connectivity to devices, while other wireless technology, including WiFi, Bluetooth, Bluetooth Low Energy, and DECT continue their massive growth rate, each introducing their own set of security challenges and attacker opportunities.
To be a wireless security expert, you need to have a comprehensive understanding of the technology, the threats, the exploits, and the defense techniques along with hands-on experience in evaluating and attacking wireless technology. Not limiting your skill-set to WiFi, you'll need to evaluate the threat from other standards-based and proprietary wireless technologies as well. This course takes an in-depth look at the security challenges of many different wireless technologies, exposing you to wireless security threats through the eyes of an attacker. Using readily available and custom-developed tools, you'll navigate your way through the techniques attackers use to exploit WiFi networks, including attacks against WEP, WPA/WPA2, PEAP, TTLS, and other systems, including developing attack techniques leveraging Windows 7/8 and Mac OS X. We'll also examine the commonly overlooked threats associated with Bluetooth, ZigBee, DECT, and proprietary wireless systems. As part of the course, you'll receive the SWAT Toolkit, which will be used in hands-on labs to back up the course content and reinforce wireless ethical hacking techniques.
Using assessment and analysis techniques, this course will show you how to identify the threats that expose wireless technology and build on this knowledge to implement defensive techniques that can be used to protect wireless systems.
Course Syllabus
Additional Information
Throughout the course, students will participate in hands-on lab exercises. Students must bring their own laptops to class that meet the requirements described below.
VMware
Students will use a virtualized MobiSec Linux VMware guest for several lab exercises. VMware Workstation or VMware Player is recommended. Note that there is no cost associated with the use of VMware Player, which can be downloaded from the VMware website.
While some students successfully use VMware Fusion for the exercises, the relative instability of VMware Fusion may introduce delays in exercise preparation, preventing the timely completion of lab exercises. VirtualBox and other virtualization tools are not supported at this time.
Hardware Requirements
Several of the software components used in the course are hardware intensive, requiring more system resources than what might be required otherwise for day-to-day use of a system. Please ensure your laptop meets the following minimum hardware requirements:
Minimum 2 GB RAM, 4 GB recommended
Ethernet (RJ45) network interface; students will not be able to complete lab exercises with systems that only have a wireless card, such as the Mac Book Air
1.5 GHz processor minimum
30 GB free hard disk space
DVD drive (not a CD drive)
Minimum screen resolution 1024x768, larger screen resolution will reduce scrolling in for several applications and a more pleasant end-user experience
Paranoia is Good
During the lab exercises, you will be connecting to a hostile wireless network! Your laptop might be attacked. Do not have any sensitive data stored on the system. SANS is not responsible for your system if it is attacked.
By bringing the right equipment and preparing in advance, you can maximize what you'll see and learn as well as have a lot of fun.
If you have additional questions about the laptop specifications, please contact laptop_prep@sans.org.
Ethical hackers and penetration testers
Network security staff
Network and system administrators
Incident response teams
Information security policy decision makers
Technical auditors
Information security consultants
Wireless system engineers
Embedded wireless system developers
Powerful 500 mW ALFA 802.11a/b/g/n wireless card
USB Global Positioning System (GPS) adapter
High-power Bluetooth interface with external antenna connector
All software and tools used in lab exercises based on Backtrack 5
Identify and locate malicious rogue access points using free and low-cost tools
Conduct a penetration test against low-power wireless including ZigBee to identify control sys- tem and related wireless vulnerabilities
Identify vulnerabilities and bypass authentication mechanisms in Bluetooth networks using Uber- tooth, CarWhisperer, and btaptap to collect sensitive information from headsets, wireless keyboards and Bluetooth LAN devices
Utilize wireless capture tools to extract audio conversations and network traffic from DECT wireless phones to identify information disclosure threats exposing the organization
Implement an enterprise WPA2 penetration test to exploit vulnerable wireless client systems for credential harvesting
Utilize wireless fuzzing tools including Metasploit file2air, and Scapy to identify new vulnerabilities in wireless devices
Author Statement
It's been amazing to watch the progression of wireless technology over the past several years. WiFi has grown in maturity and offers strong authentication and encryption options to protect networks, and many organizations have migrated to this technology. At the same time, attackers are becoming more sophisticated, and we've seen significant system breaches netting millions of payment cards that start with a wireless exploit. This pattern has me very concerned, as many organizations, even after deploying WPA2 and related technology, remain vulnerable to a number of attacks that expose their systems and internal networks.
With the tremendous success of WiFi, other wireless protocols have also emerged to satisfy the needs of longer-distance wireless systems (WiMAX), lightweight embedded device connectivity (ZigBee and IEEE 802.15.4), and specialty interference-resilient connectivity (Bluetooth and DECT). Today, it's not enough to be a WiFi expert; you also need to be able to evaluate the threat of other standards-based and proprietary wireless technologies as well.
In putting this class together, I wanted to help organizations recognize the multi-faceted wireless threat landscape and evaluate their exposure through ethical hacking techniques. Moreover, I wanted my students to learn critical security analysis skills so that, while we focus on evaluating wireless systems, the vulnerabilities and attacks we leverage to exploit these systems can be applied to future technologies as well. In this manner, the skills you build in this class remain valuable for today's wireless technology, tomorrow's technology advancements, and for other complex systems you have to evaluate in the future as well.
- Joshua Wright