LEG523: Law of Data Security and Investigations
Mon, June 17 - Fri, June 21, 2013
30 CPEs
Laptop Not Needed
Before developing any Incident Response or investigation process this class is a must. Ben does a great job getting into the heads of lawyers.

Coming from an intense IT operations background, it was extremely valuable to receive an understanding of my security role from a legal point of view.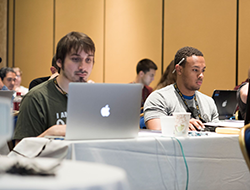 New as of Summer 2013: Legal tips on confiscating and interrogating mobile devices.
New law on privacy, e-discovery, and data security is creating an urgent need for professionals who can bridge the gap between the legal department and the IT department. The needed professional training is uniquely available in SANS' LEG523 series of courses, including skills in the analysis and use of contracts, policies, and records management procedures.
GIAC certification under LEG523 demonstrates to employers that a professional has not only attended classes, but studied and absorbed the sophisticated content of these courses. Certification distinguishes any professional, whether an IT expert, an auditor, a paralegal, or a lawyer, and the value of certification will grow in the years to come as law and security issues become even more interlocked.
This course covers the law of business, contracts, fraud, crime, IT security, IT liability and IT policy — all with a focus on electronically stored and transmitted records. The course also teaches investigators how to prepare credible, defensible reports, whether for cyber, forensics, incident response, human resources or other investigations.
This course provides training and continuing education for many compliance programs under infosec and privacy mandates such as GLBA, HIPAA, FISMA and PCI-DSS.
Day 1: Fundamentals of IT Security Law and Policy
Day 2: E-Records, E-Discovery and Business Law
Day 3: Contracting for Data Security & Other Technology
Day 4: The Law of IT Compliance: How to Conduct Investigations
Lessons from day 4 will be invaluable to the effective and credible execution of any kind of investigation — internal, government, consultant, security incidents and the like. These lessons integrate with other tips on investigations introduced in other days of the LEGAL 523 course series.
Day 5: Applying Law to Emerging Dangers: Cyber Defense
In-depth review of legal response to the major security breach at TJX.
Learn how to incorporate effective public communications into your cyber security program.
These five days of integrated education — where each successive day builds upon lessons from the earlier day(s) — will help any enterprise (public or private sector) cope with such problems as hackers, botnets, malware, phishing, unruly vendors, data leakage, industrial spies, rogue or uncooperative employees and bad publicity connected with IT security.
Recent updates to the courses address hot topics such as risk, investigations and business records retention connected with cloud computing and social networks like Facebook and Twitter. Updates also teach students how to analyze and respond to the risks and opportunities surrounding OSINT (open source intelligence gathering).
This course adopts an increasingly global perspective. Non-US professionals attend the Legal-523 course because there is no training like it anywhere else in the world. A lawyer from a European police agency recently attended and expressed high praise for the course when it was over. Another lawyer -- from the national tax authority in an African country -- sought out the course because electronic filings, evidence and investigations have become so important to her work. Students like this European lawyer and this African lawyer help the instructor, US attorney Benjamin Wright, improve the course and include more non-US content as he constantly revises it.
The Legal 523 course is complementary to SANS' rigorous digital forensics program. Together, Legal 523 and the SANS' digital forensics program provide professional investigators an unparalleled suite of training resources.
Legal 523 is tied to the coveted GLEG certification. GLEG can help a forensics investigator appear more credible as a witness in court, and help a forensics consultant win more business.
Course Syllabus
Additional Information
Investigators
Security and IT professionals
Lawyers
Paralegals
Auditors
Accountants
Technology Managers
Vendors
Compliance officers
Law enforcement
Privacy Officers
Penetration Testers
Author Statement
These are five intense days covering the rapid development of law at the intersection of IT and security. Be prepared for insights and tips you've not heard before.
- Benjamin Wright