SEC561: Immersive Hands-on Hacking Techniques
Tue, May 5 - Sun, May 10, 2015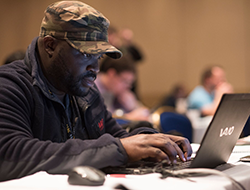 To be a top penetration testing professional, you need fantastic hands-on skills for finding, exploiting and resolving vulnerabilities. Top instructors at SANS engineered SEC561: Intense Hands-on Pen Testing Skill Development from the ground up to help you get good fast. The course teaches in-depth security capabilities through 80%+ hands-on exercises, maximizing keyboard time on in-class labs and making this SANS' most hands-on course ever. With over 30 hours of intense labs, students experience a leap in their capabilities, as they come out equipped with the practical skills needed to handle today's pen test and vulnerability assessment projects in enterprise environments.Throughout the course, an expert instructor coaches students as they work their way through solving increasingly demanding real-world information security scenarios using skills that they will be able to apply the day they get back to their jobs.
Topics addressed in the course include:
Applying network scanning and vulnerability assessment tools to effectively map out networks and prioritize discovered vulnerabilities for effective remediation.
Manipulating common network protocols to reconfigure internal network traffic patterns, as well as defenses against such attacks.
Analyzing Windows and Linux systems for weaknesses using the latest enterprise management capabilities of the operating systems, including the super-powerful Windows Remote Management (WinRM) tools.
Applying cutting-edge password analysis tools to identify weak authentication controls leading to unauthorized server access.
Scouring through web applications and mobile systems to identify and exploit devastating developer flaws.
Evading anti-virus tools and bypassing Windows User Account Control to understand and defend against these advanced techniques.
Honing phishing skills to evaluate the effectiveness of employee awareness initiatives and your organization's exposure to one of the most damaging attack vectors widely used today.
People often talk about these concepts, but this course teaches you how to actually do them hands-on and in-depth. SEC561 shows penetration testers, vulnerability assessment personnel, auditors, and operations personnel how to leverage in-depth techniques to get powerful results in every one of their projects. The course is overflowing with practical lessons and innovative tips, all with direct hands-on application. Throughout the course, students interact with brand new and custom-developed scenarios built just for this course on the innovative NetWars challenge infrastructure, which guides them through the numerous hands-on labs providing questions, hints, and lessons learned as they build their skills.
You Will Learn:
How to model the capabilities of today's advanced attackers in your penetration tests, including how to evade anti-virus tools and bypass UAC.
How to confirm and exploit system flaws identified by vulnerability assessment scanners.
How to reliably get remote shell access on victim systems through phishing attacks.
How to apply advanced network pivoting attacks to reach internal vital systems.
How to identify, exploit and leverage common web application flaws.
Course Syllabus
Additional Information
Throughout the course, students will participate in hands-on lab exercises. Students must bring their own laptops to class that meet the requirements described below.
Windows
Students must bring a Windows 8/8.1 or Windows 7 laptop to class, preferably running natively on the system hardware. It is possible to complete the lab exercises using a virtualized Windows installation, but this will result in reduced performance when running some lab exercises.
Administrative Windows Access
For several tools used in the course, students will be required to perform actions with administrative privileges. Students must have administrative access on their Windows host, including the ability to unload or disable security software such as anti-virus or firewall agents as necessary for the completion of lab exercises.
VMware
Students will use a virtualized Linux VMware guest for several lab exercises. VMware Workstation or VMware Player is recommended. Note that there is no cost associated with the use of VMware Player, which can be downloaded from the VMware website.
While some students successfully use VMware Fusion for the exercises, the relative instability of VMware Fusion may cause delays in carrying out lab exercises, preventing their timely completion. VirtualBox and other virtualization tools are not supported at this time.
Hardware Requirements
Several of the software components used in the course are hardware-intensive and require more system resources than what might be required otherwise for day-to-day use of a system. Please ensure that your laptop meets the following minimum hardware requirements:
Minimum 2 GB RAM (4 GB recommended)
Ethernet (RJ45) network interface; students will not be able to complete lab exercises with systems that only have a wireless card
30 GB free hard disk space
DVD drive
Minimum screen resolution of 1024x768; a larger screen resolution will reduce scrolling in for several applications and enable an easier end-user experience
If you have additional questions about the laptop specifications, please contact laptop_prep@sans.org.
Security professionals who want to expand their hands-on technical skills in new analysis areas such as packet analysis, digital forensics, vulnerability assessment, system hardening and penetration testing.
Systems and network administrators who want to gain hands-on experience in information security skills to become better administrators.
Incident response analysts who want to better understand system attack and defense techniques.
Forensic analysts who need to improve their skills through experience with real-world attacks.
Penetration testers seeking to gain practical hands-on experience for use in their own assessments.
Red team members who want to build their hands-on skills, and blue team members who want to better understand attacks and defend their environments.
To get the most out of this course, students should have some prior hands-on vulnerability assessment or penetration testing experience (minimum six months), or have taken at least one other penetration testing course (particularly SANS SEC560 or SEC542). The course will build on that background, helping participants ramp up their skills even further across a broad range of penetration testing disciplines.
Other Courses People Have Taken
Course book.
Daily lab answer books detailing all the course challenge labs, with questions, hints and answers.
Handouts and cheat-sheets used for quick reference to detailed information sources.
Course DVD and associated software, files and analysis resources.
Use network scanning and vulnerability assessment tools to effectively map out networks and prioritize discovered vulnerabilities for effective remediation.
Use password analysis tools to identify weak authentication controls leading to unauthorized server access.
Evaluate web applications for common developer flaws leading to significant data loss conditions.
Manipulate common network protocols to maliciously reconfigure internal network traffic patterns.
Identify weaknesses in modern anti-virus signature and heuristic analysis systems.
Inspect the configuration deficiencies and information disclosure threats present on Windows and Linux servers.
Bypass authentication systems for common web application implementations.
Exploit deficiencies in common cryptographic systems.
Bypass monitoring systems by leveraging IPv6 scanning and exploitation tools.
Harvest sensitive mobile device data from iOS and Android targets.
Using PowerShell for Compromised Host Pillaging
Custom Wordlist Generation for Smart Password Cracking
Privilege Escalation Attack Following a Host Compromise
Manipulating Website Security Rules with Firefox
Exploiting PHP Server Misconfiguration Flaws
Evaluating Network Traffic with NetworkMiner
Extracting Chat Logs from Skype on iPhones
Attacking Mobile Device Password Managers
Identifying Flaws through Reverse-Engineering Android Applications
Bypassing Anti-Virus Tools with Customized Exploits
Exploiting Volume Snapshot Service on Windows
Advanced Pivoting Attacks with Secure Shell Tunneling and Redirection
Here is what SEC561 alumni say about the course:
"20% lecture...80% lab - Excellent format!"
"80% hands-on is intense and the best way to build on previous pen-testing-focused SANS courses."
"Great learning for at-your-own-pace students."
"Love being able to get hands-on all day."
"Such a fun learning experience."
"A really great course! I loved every minute!"
Author Statement
In creating this course, we focused on getting as much practical, hands-on skill building into the classroom as possible. Each day begins with a short briefing on the technical topics students will work on throughout the day. Then, students build their skills analyzing real-world target systems in the classroom. When students walk out of the class, they will have mastered over 100 new techniques for finding, exploiting and then fixing security flaws. Just as aircraft pilots need more 'stick' time learning how to fly, this course provides penetration testers and other security professionals with the real-world experience they need to excel in their work. - Josh Wright