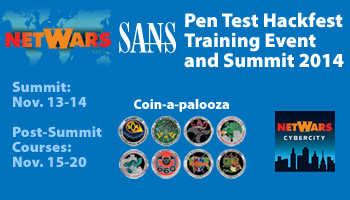 Welcome to Pen Test Hackfest Summit & Training
5 courses
6 instructors
1 disciplines
SANS Pen Test Hackfest Training Event and Summit is an ideal way to take your penetration testing and vulnerability assessment skills to an entirely new level. Featuring top-rated, industry-leading experts sharing their best tips and advice, this must-attend event is focused on building your skills in providing super high-value in your work. Other hacker and pen test conferences cover interesting hacks, but only the SANS Pen Test Hackfest is focused on imparting skills you can directly apply to your next project.
With two days of in-depth presentations followed by your choice of SANS top-rated penetration testing courses, the SANS Pen Test Hackfest Training Event and Summit is the place to be in November in Washington DC.
As an added benefit, we'll also run an extended NetWars Tournament during the evenings at the event! These sessions will give you more time than ever with SANS awesome NetWars challenge series to even further build your skills in a fun, interactive, hands-on fashion.
Top Reasons to Attend the SANS Pen Test Hackfest Training Event and Summit:
NetWars, NetWars, NetWars! This event will include THREE full evenings of NetWars challenges, increasing the amount of NetWars time over a traditional SANS Live Training Event. NetWars is an action-packed challenge environment where people can build their skills while having fun.
Coin-a-palooza: For participants who have taken a given SANS course, but have not won the capture the flag challenge coin, this event will offer the ability to catch up on the coins by participating in the four nights of NetWars challenges. If you've taken 504 in the past (but didn't win the coin), and make it from NetWars Level 1 into 2, you'll earn the 504 coin! If you make it into Level 3, you'll get your choice of a 542, 560, 561, 573 or 575 coin, provided you've taken the associated course sometime in the past. Make it into Level 4, and you'll get your choice of a 617, 642, 660 or 760 coin if you've had those classes! And, if you win NetWars, you'll get the NetWars coin. With Coin-a-palooza, you'll have an opportunity to win up to 4 challenge coins for your collection.
CyberCity: The SANS CyberCity project helps train cyber warriors that computer and network activities can have major kinetic impact on the real-world. With its power grid, traffic lights, and water reservoir included in a physical model city, participants access and gain control over these assets, preventing attackers from wreaking havoc. This event will include a full evening session of CyberCity missions. This is one of the few annual events where you have hands-on access to the physical city.
Summit: Two full-days of in-depth presentations chock full of cutting-edge penetration testing topics focused on helping you provide technical excellence and real business value in your vulnerability assessment and penetration testing work.
Training: 5-6 days of deep SANS training in real-world penetration techniques you can use immediately when you return to your job.
Special Offers for All Attendees!
This offer reduces the Summit registration fee from $1,495 to $495 when purchased in conjunction with a full price 5-6 day course a savings of $1,000! The discount is automatically applied when the Summit and a qualifying course are both selected during registration.