AUD507: Auditing & Monitoring Networks, Perimeters & Systems
Sun, April 5 - Fri, April 10, 2020
Associated Certification: GIAC Systems and Network Auditor (GSNA)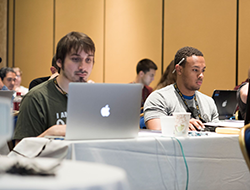 Performing IT security audits at the enterprise level can be a daunting task. How should you determine which systems to audit first? How do you assess the risk to the organization related to information systems and business processes? What settings should you check on the various systems under scrutiny? Is there a set of processes that can be put into place to allow an auditor to focus on the business processes rather than the security settings? How do you turn this into a continuous monitoring process? The material covered in this course will answer all of these questions and more.
AUD507 teaches students how to apply risk-based decision making to the task of auditing enterprise security.
This track is organized specifically to provide a risk driven method for tackling the enormous task of designing an enterprise security validation program. After covering a variety of high-level audit issues and general audit best practice, the students will have the opportunity to dive deep into the technical "how-to" for determining the key controls that can be used to provide a high level of assurance to an organization. Real-world examples provide students with tips on how to verify these controls in a repeatable way and many techniques for continuous monitoring and automatic compliance validation. These same real-world examples help the student learn how to be most effective in communicating risk to management and operations staff.
AUD507 allows students to practice new skills in realistic hands-on labs
Each day of the course affords students with opportunities to use the tools and techniques discussed in class. The labs are designed to simulate real-world enterprise auditing challenges and to allow the students to use appropriate tools and techniques to solve these problems. Students learn how to use technical tests to develop the evidence needed to support their findings and recommendations. We go beyond discussing the tools students could use; we give them the experience to use the tools and techniques effectively to measure and report on the risk in their organizations.
Day six of the course is an all-day lab! Students have the opportunity to challenge themselves by solving realistic audit problems using the tools and techniques they have learned in class.
The skills students learn in AUD507 can be used immediately after class
Students will leave the course with the know-how to perform effective tests of enterprise security in a variety of areas. The combination of high-quality course content, provided audit checklists, discussion of common audit challenges and solutions, and ample opportunities to hone their skills in the lab provides a unique opportunity for students to learn how to be an effective enterprise auditor.
A Sampling of Course Topics
Audit planning and techniques
Effective risk assessment for control specification
Time-based assessment and auditing
Delivering effective reports to management
Auditing virtualization hosts
Understanding and auditing cloud services and containers
Effective network population auditing
Performing useful vulnerability assessments
Detailed router, switch and firewall auditing
Technical validation of network controls
OWASP Top Ten Proactive Controls for web applications
Auditing traditional web applications
Auditing web APIs, AJAX, and single-page applications
Windows PowerShell
Windows system auditing & scaling to the enterprise
Auditing Active Directory
Building an audit toolkit
Linux/UNIX auditing
Course Syllabus
Additional Information
AUD507 requires a laptop with at least the following specifications:
CPU: A 64-bit x64 processor. Some of the virtual machines used for labs REQUIRE a 64-bit processor to run. Students who bring a non-64-bit system to class will not be able to complete all the exercise. Determine if you have a 64-bit processor and operating system using the following links:
BIOS/UEFI Hardware Settings: 64-bit virtualization features must be enabled in the laptop's BIOS/UEFI settings. Check your settings using the free tool from VMWare here
RAM: 8 GB of RAM minimum. Laptops with less than 8GB of RAM may not be able to run all of the virtual machines required for labs and are unsupported for this course.
Operating System: Fully patched Windows 10 or MacOS 10.14, capable of running the most current version of VMWare virtualization products (Fusion, Player or Workstation). Linux operating systems are not supported for this class since we are unable to test against all distributions and versions. Advanced students who choose to bring a Linux laptop anyway must ensure that the system meets all hardware requirements, is running the current version of VMWare Workstation or Player for Linux, and is capable of mounting ExFAT filesystems from USB to be able to participate in the course labs.
Required Software: The current version of VMWare Workstation, Player or Fusion.
Administrative Access: The student must be a local administrator on the system. The labs require changes to VMWare's network settings which can only be accomplished by a local administrator. Ensure that you can run an "elevated command prompt" on your system before the beginning of class.
Disable Windows Credential Guard: Credential Guard is installed with Windows Hyper-V services and is incompatible with VMWare virtualization products. SANS instructor Rob Lee has instructions available at http://dfir.to/CGPDF
Hard Drive: At least 50GB of free hard disk space to allow room for virtual machines used in class.
Networking: Wireless 802.11 B, G, or N
If you have additional questions about the laptop specifications, please contact laptop_prep@sans.org.
Auditors seeking to identify key controls in IT systems
Audit professionals looking for technical details on auditing
Managers responsible for overseeing the work of an audit or security team
Security professionals newly tasked with audit responsibilities
System and network administrators looking to understand better what an auditor is trying to achieve, how they think and how to better prepare for an audit
System and network administrators seeking to create strong change control management and detection systems for the enterprise
Anyone looking to implement effective continuous monitoring processes within the enterprise
AUD507 assumes that the student is capable of:
Navigating the filesystem in Microsoft Windows
Launching the command prompt and PowerShell in Windows
Running commands from the command line in Windows
The ability to navigate the command line and run simple commands in Linux will be helpful but not required. The courseware and instruction provide the student with the information necessary to use the Linux systems utilized in class.
In this course, you will receive the following:
MP3 audio files of the complete course lecture
Understand the different types of controls (e.g., technical vs. non-technical) essential to performing a successful audit
Conduct a proper risk assessment of an enterprise to identify vulnerabilities and develop audit priorities
Establish a well-secured baseline for computers and networks as a standard to conduct audit against
Perform a network and perimeter audit using a repeatable process
Audit firewalls to validate that rules/settings are working as designed, blocking traffic as required
Utilize vulnerability assessment tools effectively to provide management with the continuous remediation information necessary to make informed decisions about risk and resources
Audit a web application's configuration, authentication, and session management to identify vulnerabilities attackers can exploit
Utilize scripting to build a system which will baseline and automatically audit Active Directory and all systems in a Windows domain
Utilize scripting to build a system which will baseline and automatically audit Linux systems
AUD507 uses hands-on labs every day to reinforce the material discussed in class and develop the "muscle memory" needed to perform the required technical tasks during audits. An abbreviated sampling of the many lab topics includes:
Calculating audit sample sizes and margins of error
Understanding hypervisors
Validating firewalls
Population scanning and monitoring
Auditing network device configurations
Testing SMTP and DNS server settings
Using the Burp proxy to analyze and modify web traffic
Auditing of web session handling mechanisms
Performing brute force attacks against websites
Testing website input handling
Scripting with PowerShell
Auditing Active Directory
Querying Windows system information
Determining installed software on Windows
Auditing Windows patching
Working with Linux logs
Scripting Linux with Bash
Using Tripwire to ensure file integrity
Author Statement
"Being an excellent information technology auditor requires a special mix of skills. An effective auditor will know how to assess organizational risk, scope, plan and execute an audit engagement properly. They must have the technical skills to design and perform tests of controls. Then, they must have the business communication skills to report risks to the business in a clear, actionable format. Auditors require the ability to work "in the weeds" when necessary with systems and network engineers and administrators, and then walk into the boardroom and deliver their findings and recommendations in a way that enables business leaders to make well-informed decisions regarding the risk faced by their enterprise.
AUD507 is designed to allow students from diverse backgrounds to learn the skills they need to design and deliver high-quality audits of organizations' IT systems, networks, and web applications. From day one, we teach students the thought processes, technical tools, and communications techniques to become a world-class auditor. When they leave the class, they have the technical skills and the mindset required to identify and report on risk in any organization."
-Clay Risenhoover