SANS Live Online: Lunch & Learn - Secure Your Users Everywhere
Chris Bilodeau

Wednesday, April 8th, 12:30pm - 1:30pm
Your workplace has changed: highly distributed environments are the norm, SaaS usage is on the rise, and roaming users are a highly attractive target for threats. Find out how to shift your security, gain control, and protect users more effectively no matter where they work.
In this session we will take a look at how to secure roaming users and branch office locations quickly and effectively. We will discuss how Cisco Umbrella and Cisco Talos combine to deliver strong defense against cyberattacks and industry-leading threat intelligence to help you predict, prevent, detect, and respond to attacks before damage can be done.
For SANS 2020 - Live Online students:
*** REGISTER and be entered in a drawing to win a $100 Amazon Gift Card. ***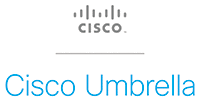 ---
Bonus Sessions
The following bonus sessions are open to all paid attendees at no additional cost. There are many different types of events that fall into these categories:
SANS@Night: Evening presentations given after day courses have ended. This category includes Keynotes.
Special Events: SANS-hosted events and other non-technical recreational offerings. This category includes, but is not limited to, Receptions and Information Tables.
Lunch & Learn: Short presentations given during the lunch break.
Wednesday, April 8
| Session | Speaker | Time | Type |
| --- | --- | --- | --- |
| SANS Live Online: SANS.edu Undergraduate & Graduate Programs Information Session | Admissions Team | Wednesday, April 8th, 8:00am - 8:45am | Special Events |
| SANS Live Online: Lunch & Learn - Cortex by Palo Alto Networks Presents: Journey to the Center of the SOC | Harold Moore | Wednesday, April 8th, 12:30pm - 1:30pm | Lunch and Learn |
| SANS Live Online: Lunch & Learn - Secure Your Users Everywhere | Chris Bilodeau | Wednesday, April 8th, 12:30pm - 1:30pm | Lunch and Learn |
| SANS Live Online: Lunch & Learn - Effortlessly Immunize Software - Rapidly inoculate compiled code against software memory vulnerabilities | Kenton Brazelle | Wednesday, April 8th, 12:30pm - 1:30pm | Lunch and Learn |
| Core NetWars Tournament - Day One | — | Wednesday, April 8th, 5:00pm - 9:00pm | Special Events |
| SANS Live Online: SANS @MIC Talk - Take Back The Advantage - Cyber Deception for the Win | Kevin Fiscus | Wednesday, April 8th, 8:30pm - 9:30pm | SANS@Night |