SEC564: Red Team Operations and Threat Emulation
Waitlist
Mon, April 9 - Tue, April 10, 2018
I loved SEC564. Hands down, the most practical course available.

SEC564 gives me the tools and structure to organize, plan, and execute red team engagements.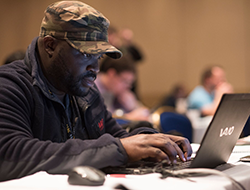 Red Teaming is the process of using tactics, techniques, and procedures (TTPs) to emulate real-world threats to train and measure the effectiveness of the people, processes, and technology used to defend environments. Built on the fundamentals of penetration testing, Red Teaming uses a comprehensive approach to gain insight into an organization's overall security to test its ability to detect, respond to, and recover from an attack. When properly conducted, Red Team activities significantly improve an organization's security controls, help hone defensive capabilities, and measure the effectiveness of security operations.
The Red Team concept requires a different approach from a typical security test and relies heavily on well-defined TTPs, which are critical to successfully emulating a realistic threat or adversary. Red Team results exceed a typical list of penetration test vulnerabilities, provide a deeper understanding of how an organization would perform against an actual threat, and identify where security strengths and weaknesses exist.
Whether you support a defensive or offensive role in security, understanding how Red Teams can be used to improve security is extremely valuable. Organizations spend a great deal of time and money on the security of their systems, and it is critical to have professionals who can effectively and efficiently operate them. SEC564 will provide you with the skills to manage and operate a Red Team, conduct Red Team engagements, and understand the role of a Red Team and its importance in security testing. This two-day course will explore Red Team concepts in-depth, provide the fundamentals of threat emulation, and help you reinforce your organization's security posture.
Course Syllabus
SEC564.1: Planning and Management of Red Team Operations
Joe Vest
Mon Apr 9th, 2018
9:00 AM - 5:00 PM
---
Overview
Day 1 begins by introducing Red Team topics, concepts, and ideas. You will learn what Red Teaming is, how it is used, and how it compares to other security testing types, such as vulnerability assessments and penetration tests. Several topics, concepts, and ideas that are specific to Red Teams, and which constitute the critical foundation of Red Teaming, are examined in order to provide a solid base of understanding.
Exercises
Adversarial Mindset Challenge
Setting up an Attack Platform
Analyzing, Understanding, and Controlling User-Agent IOCs
Decomposing a Threat
Topics
Red Teaming Definitions, Assumptions, and Expectations
Common Red Teaming Terms
Security Misconceptions and Assumptions
History and Origin
Red Teaming Introductions
How Red Teaming Compares to Other Security Tests
Red Team's Role in Blue Team Training
Live Assessment Example
Red Teaming Concepts
Red Team Roles and Responsibilities
Standard Attack Platform
Engagement Planning
Understanding and Controlling Tool Indicators
Threat Planning
Threat Perspective
Threat Emulation Scenarios
Red Team Goals
Social Engineering
Other Red Team Engagement Concepts
Handling Client Data
Engagement Frequency
How to Succeed
SEC564.2: Red Team Engagement Execution
Joe Vest
Tue Apr 10th, 2018
9:00 AM - 5:00 PM
---
Overview
Day 2 continues with engagement execution and a focus on Red Team tools and techniques. The day is filled with exercises that walk students through a mock Red Team engagement. Multiple Red Teaming phases are explored that use realistic TTPs to ultimately impact the target organization's supply chain. During the exercises, you manage and control indicators of compromise (IOCs), design custom command and control channels, and use unique command and control tools. You will also learn Red Teaming concepts needed to control and manage a Red Team. These concepts include how to interface with clients, collect and log engagement artifacts, successfully execute an engagement, manage deconfliction, properly end an engagement, and deliver a professional report.
Exercises
Using Web Shells to Support C2
C2 Design and Customization - PowerShell Empire
Performing an Operational Impact Against an ICS System
Topics
Red Team Engagement Execution
Data Collection
Tradecraft and TTPs
Execution Concepts
Tools and Techniques
Engagement Background
Engagement Culmination
Red Team Engagement Reporting
Additional Information
To get the most value out of this course, students are required to bring their own laptop so that they can connect directly to the workshop network we will create. It is the students' responsibility to make sure the system is properly configured with all drivers necessary to connect to an Ethernet network.
VMware
The class does not support Virtual Box, VirtualPC, or other non-VMware virtualization products.
You will use VMware to run a Linux guest operating system to perform exercises in class. You must have either the free VMware Player 6 or later or the commercial VMware Workstation 10 or later installed on your system prior to coming to class. You can download VMware Player for free here.
Alternatively, if you want a more flexible and configurable tool, you can download a free 30-day trial copy of VMware Workstation. VMware will send you a time-limited license number for VMware Workstation if you register for the trial on their website. No license number is required for VMware Player.
If you plan to use a Macintosh, please make sure you bring VMware Fusion.
Mandatory Laptop Hardware Requirements:
x86-compatible or x64-compatible 2.0 GHz CPU minimum or higher
8 GB RAM minimum with 16 GB or higher recommended Ethernet adapter (a wired connection is required in class; if your laptop supports only wireless, please make sure to bring a USB Ethernet adapter with you)
40 GB available hard-drive space
An available USB Port
During the course exercises, you will be connecting to a hostile network. Your laptop might be attacked. Do not have any sensitive data stored on the system. SANS is not responsible for your system if someone in the class attacks during course exercises.
By bringing the right equipment and preparing in advance, you can maximize what you will see and learn, as well as have a lot of fun.
If you have additional questions about the laptop specifications, please contact laptop_prep@sans.org.
Security professionals interested in expanding their knowledge of Red Teaming
Penetration testers
Ethical hackers
Defenders who want to better understand offensive methodologies, tools, and techniques
Auditors who need to build deeper technical skills
Red Team members
Blue Team members
CND/CNE Teams
Forensics specialists who want to better understand offensive tactics
Information security managers who need to incorporate red team activities into their operations
The concepts and exercises in this course are built on the fundamentals of offensive security. An understanding of general penetration testing concepts and tools is encouraged, and a background in security fundamentals will provide a solid base upon which to build Red Teaming concepts.
Many of the Red Teaming concepts taught in this course are suitable for anyone in the security community, and both technical staff as well as management personnel will be able to gain a deeper understanding of Red Teaming.
You Will Receive With This Course
A course USB with the SANS Slingshot Linux Penetration Testing Environment loaded with numerous tools used for all exercises
Details on Red Team use of common tools and their usage
A variety of sample documents used in planning, executing, and reporting Red Team engagements
This Course Will Prepare You To
Make the best use of a Red Team and apply it to measure and understand an organization's security defenses
Learn what Red Teaming is and how it differs from other security testing engagements
Understand the unique view of the offensive security field of Red Teaming and the concepts, principles, and guidelines critical to its success
Design and create threat-specific goals to measure and train organizational defenders (CND/Blue Teams)
Learn to use the "Get In, Stay In, and Act" methodology to achieve operational impacts
Authors' Statement
"A great deal of time and money are spent on protecting critical digital assets. Many organizations focus their security testing on compliance or limited scope reviews of a system. These limited tests often leave an organization with a false sense of security. Organizations that open themselves to assessment not only of their technology, but also of their people and processes, can significantly improve their security posture and adjust a limited security budget to protect their most critical assets. Scenario-based testing and Red Team techniques can be used to determine how an organization really stands up to a realistic and determined threat."
- Joe Vest and James Tubberville