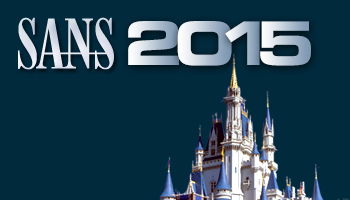 Welcome to SANS 2015
35 courses
35 instructors
6 disciplines
Information Security Training in Orlando, FL
Information security training in Orlando, Florida from SANS Institute, the global leader in information security training. At SANS 2015, SANS offers hands-on, immersion-style security training courses taught by real-world practitioners. The site of SANS 2015, April 11-18, 2015, is the Walt Disney World Swan Resort which is located in between Epcot® and Disney's Hollywood Studios™ and close to Disney's Animal Kingdom® Theme Park and Magic Kingdom® Park.
Daily Registration Information:
One and Two day Courses only Saturday, April 11 - 8am to 9am at the Walt Disney World Dolphin Hotel - Oceanic Foyer Sunday, April 12 - 8am to 9am at the Walt Disney World Swan Hotel - Swan Foyer
Four, Five and Six Day Courses - Walt Disney World Swan Hotel in the Swan Foyer Sunday, April 12 - Welcome Reception and Early Registration - 5pm to 7pm Monday, April 13 - 7am to 5:30pm Tuesday, April 14 to Friday, April 17 - 8am to 5pm Saturday, April 18 - 8am to Noon
Our courses are packed with the techniques and tools that you need at this point in your career. Below are the courses that will raise your level of security knowledge! Be sure to check our Schedule Page to find additional one- and two-day, skills-based courses that you can take with a long course and save on the short-course fees. Don't miss our evening talks and vendor expo that are part of a SANS live training event. Read More
Nothing beats the SANS live training experience but if you are unable to attend learn how you can
attend remotely
.
Available Courses
Title
Certification
Instructor

New

SEC301: Intro to Information Security
GISF
Keith Palmgren


New

SEC511: Continuous Monitoring and Security Operations
GMON
Christopher Crowley
Eric Conrad

SEC401: Security Essentials Bootcamp Style
GSEC
Dr. Eric Cole

SEC501: Advanced Security Essentials - Enterprise Defender
GCED
Paul A. Henry

SEC503: Intrusion Detection In-Depth
GCIA
Mike Poor

SEC504: Hacker Tools, Techniques, Exploits and Incident Handling
GCIH
John Strand

SEC505: Securing Windows with the Critical Security Controls
GCWN
Jason Fossen

SEC524: Cloud Security Fundamentals

—

Dave Shackleford

SEC542: Web App Penetration Testing and Ethical Hacking
GWAPT
Seth Misenar

SEC560: Network Penetration Testing and Ethical Hacking
GPEN
Ed Skoudis

SEC566: Implementing and Auditing the Critical Security Controls - In-Depth
GCCC
James Tarala

SEC573: Python for Penetration Testers

—

Mark Baggett

SEC575: Mobile Device Security and Ethical Hacking
GMOB
Joshua Wright

SEC580: Metasploit Kung Fu for Enterprise Pen Testing

—

Eric Conrad

SEC617: Wireless Ethical Hacking, Penetration Testing, and Defenses
GAWN
Larry Pesce

SEC642: Advanced Web App Penetration Testing and Ethical Hacking

—

Justin Searle

SEC660: Advanced Penetration Testing, Exploit Writing, and Ethical Hacking
GXPN
James Lyne

SEC760: Advanced Exploit Development for Penetration Testers

—

Stephen Sims

FOR408: Windows Forensic Analysis
GCFE
Rob Lee

FOR508: Advanced Digital Forensics and Incident Response
GCFA
Chad Tilbury

FOR572: Advanced Network Forensics and Analysis
GNFA
Philip Hagen

FOR585: Advanced Smartphone Forensics

—

Heather Mahalik

FOR610: Reverse-Engineering Malware: Malware Analysis Tools and Techniques
GREM
Lenny Zeltser

MGT414: SANS Training Program for CISSP® Certification
GISP
Eric Conrad
Jonathan Ham

MGT415: A Practical Introduction to Risk Assessment

—

G. Mark Hardy

MGT433: Securing The Human: How to Build, Maintain and Measure a High-Impact Awareness Program

—

Lance Spitzner

MGT512: SANS Security Leadership Essentials For Managers with Knowledge Compression™
GSLC
David Hoelzer

MGT514: IT Security Strategic Planning, Policy and Leadership

—

G. Mark Hardy

MGT525: IT Project Management, Effective Communication, and PMP® Exam Prep
GCPM
Jeff Frisk

DEV522: Defending Web Applications Security Essentials
GWEB
Johannes Ullrich, Ph.D.

AUD440: Critical Security Controls: Planning, Implementing and Auditing

—

Randy Marchany

AUD507: Auditing & Monitoring Networks, Perimeters & Systems
GSNA
Tanya Baccam

LEG523: Law of Data Security and Investigations
GLEG
Benjamin Wright

HOSTED: Health Care Security Essentials

—

Greg Porter

HOSTED: Physical Penetration Testing

—

The CORE Group


Sold Out

Core NetWars Tournament - Add-on
(FREE with any 4-6 Day SANS Course Registration)

—

Jeff McJunkin


Sold Out

DFIR NetWars Tournament - Add-on
(FREE with any 4-6 Day SANS Course Registration)

—

Philip Hagen
Rob Lee