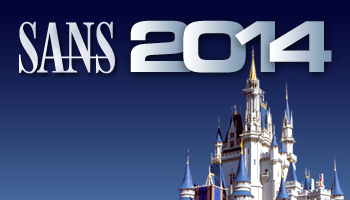 Welcome to SANS 2014
31 courses
30 instructors
6 disciplines
SANS will be back at Disney in Orlando for SANS 2014! Join us April 5-14, 2014 for SANS top courses from six of SANS disciplines. Our campus is the Walt Disney World Dolphin, which is in the heart of the Walt Disney World® Resort. Start making your travel plans now!
Our courses are packed with the techniques and tools that you need at this point in your career. Below are the five- and six-day courses that will raise your level of security knowledge! Be sure to check our Schedule Page to find additional one- and two-day, skills-based courses that you can take with a long course and save on the short-course fees. Don't miss our evening talks and vendor expo that are part of a SANS Conference training event. Read More
Nothing beats the SANS live training experience but if you are unable to attend learn how you can
attend remotely
.
Available Courses
Title
Certification
Instructor

Sold Out

FOR572: Advanced Network Forensics and Analysis

—

George Bakos
Philip Hagen


New

MGT415: A Practical Introduction to Risk Assessment

—

James Tarala

SEC301: Intro to Information Security
GISF
Fred Kerby

SEC401: Security Essentials Bootcamp Style
GSEC
Dr. Eric Cole

SEC501: Advanced Security Essentials - Enterprise Defender
GCED
Paul A. Henry

SEC503: Intrusion Detection In-Depth
GCIA
Mike Poor

SEC504: Hacker Techniques, Exploits & Incident Handling
GCIH
John Strand

SEC505: Securing Windows with the Critical Security Controls
GCWN
Jason Fossen

SEC542: Web App Penetration Testing and Ethical Hacking
GWAPT
Seth Misenar

SEC546: IPv6 Essentials

—

Johannes Ullrich, Ph.D.

SEC560: Network Penetration Testing and Ethical Hacking
GPEN
Ed Skoudis

SEC566: Implementing and Auditing the Critical Security Controls - In-Depth
GCCC
James Tarala

SEC575: Mobile Device Security and Ethical Hacking
GMOB
Joshua Wright

SEC580: Metasploit Kung Fu for Enterprise Pen Testing

—

Eric Conrad

SEC617: Wireless Ethical Hacking, Penetration Testing, and Defenses
GAWN
Larry Pesce

SEC642: Advanced Web App Penetration Testing and Ethical Hacking

—

Justin Searle

SEC660: Advanced Penetration Testing, Exploits, and Ethical Hacking
GXPN
Stephen Sims

FOR408: Windows Forensic Analysis
GCFE
Ovie Carroll

FOR508: Advanced Computer Forensic Analysis and Incident Response
GCFA
Rob Lee

FOR526: Memory Forensics In-Depth

—

Alissa Torres

FOR610: Reverse-Engineering Malware: Malware Analysis Tools and Techniques
GREM
Lenny Zeltser

MGT414: SANS® +S™ Training Program for the CISSP® Certification Exam
GISP
Eric Conrad

MGT433: Securing The Human: How to Build, Maintain and Measure a High-Impact Awareness Program

—

Lance Spitzner

MGT512: SANS Security Leadership Essentials For Managers with Knowledge Compression™
GSLC
G. Mark Hardy

MGT525: IT Project Management, Effective Communication, and PMP® Exam Prep
GCPM
Jeff Frisk

DEV522: Defending Web Applications Security Essentials
GWEB
Johannes Ullrich, Ph.D.

AUD444: Auditing Security and Controls of Active Directory and Windows

—

Bryan Simon
Tanya Baccam

AUD445: Auditing Security and Controls of Oracle Databases

—

Bryan Simon
Tanya Baccam

AUD507: Auditing Networks, Perimeters, and Systems
GSNA
David Hoelzer

LEG523: Law of Data Security and Investigations
GLEG
Benjamin Wright

HOSTED: Physical Penetration Testing - Introduction

—

Deviant Ollam

Core NetWars Tournament - Add-on
(FREE with any 4-6 Day SANS Course Registration)

—

Ed Skoudis
Tim Medin

DFIR NetWars Tournament - Add-on
(FREE with any 4-6 Day SANS Course Registration)

—

Rob Lee