DEV544: Secure Coding in .NET: Developing Defensible Applications
DEV544 covers the fundamentals of security. Many tools and concepts have been introduced.
Duc Bui, WorldPay

This class should be required for anyone in the field of software development.
Attendee, Meijer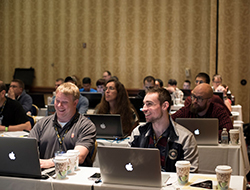 ASP.NET and the .NET framework have provided web developers with tools that allow them an unprecedented degree of flexibility and productivity. On the other hand, these sophisticated tools make it easier than ever to miss the little details that allow security vulnerabilities to creep into an application. Since ASP.NET, 2.0 Microsoft has done a fantastic job of integrating security into the ASP.NET framework, but the onus is still on application developers to understand the limitations of the framework and ensure that their own code is secure.
During this four-day course we will analyze the defensive strategies and technical underpinnings of the ASP.NET framework and learn where, as a developer, you can leverage defensive technologies in the framework, where you need to build security in by hand. We'll also examine strategies for building applications that will be secure both today and in the future.
Rather than focusing on traditional web attacks from the attacker's perspective, this class will show developers first how to think like an attacker, and will then focus on the latest defensive techniques specific to the ASP.NET environment. The emphasis of the class is a hands-on examination of the practical aspects of securing .NET applications during development.
Have you ever wondered if ASP.NET Request Validation is effective? Have you been concerned that XML web services might be introducing unexamined security issues into your application? Should you feel uneasy relying solely only on the security controls built into the ASP.NET framework? Secure Coding in ASP.NET will answer these questions and far more.
Course Contents
Instructors
Schedule

DEV544.1: Data Validation
James Jardine, Eric Johnson
Sun Mar 10th, 2013
9:00 AM - 5:00 PM


Overview

Improper data validation is the root cause of the most prevalent web application vulnerabilities today. Cross Site Scripting (XSS) has become the most widely reported issue with web applications. It has reached the point where the Web Application Security Consortium (WASC) estimates that over 80% of the web sites on the Internet are vulnerable to this attack.

Beginning on the first day, you will learn about some of the most prevalent web applications vulnerabilities such as XSS, CSRF, SQL Injection, HTTP Response Splitting, and Parameter Manipulation. You will see how to spot some of these issues and how to recreate them in a running application. Then you will use a variety of methods to actually fix these vulnerabilities in your C# code.

The course is full of hands on exercises where you can apply practical data validation techniques that you can use to prevent common attacks.

Topics

Web Application Attacks

Cross Site Scripting
Cross Site Request Forgery (CSRF)
SQL Injection
HTTP Response Splitting
Parameter Manipulation

Web Application Proxies

Validation Concerns

Character Encoding
Input Validation
Output Encoding
Blacklisting & Whitelisting

Validation Techniques

Validation Controls
Server vs. Client side validation
Regular Expressions
HTML Encoding
CAPTCHA
ADO.NET
Stored Procedures
LINQ

DEV544.2: Authentication & Session Management
James Jardine, Eric Johnson
Mon Mar 11th, 2013
9:00 AM - 5:00 PM


Overview

Broken authentication and session management are common issues that can compromise the integrity of your system. Such weak authentication protections can allow an attacker to expose your most sensitive secrets: your data! You will learn about these vulnerabilities and what you can do to design and code stronger authentication protections from the start.

You will learn how to use ASP.NET Authentication mechanisms and securely implement both Basic and Form Based Authentication. This course is full of hands on exercises and culminates in a lab where you put everything you learned together into an application that is protected by strong authentication controls.

Topics

Authentication

IIS / ASP.NET pluggable authentication architecture
Basic & Digest Authentication
.NET Form Based Authentication Framework
Windows Authentication
Authorization, OS security, and Impersonation
SSL Client Certificates
Authentication Policies

Protecting Sessions

Secure Session ID generation
Session data, and persistence
Session policies, expiry, etc.
Session Hijacking

Authentication Attacks

Brute Force Attacks
Weak Password Storage
Password Reset
Secret Questions

DEV544.3: Secure .NET Architecture
James Jardine, Eric Johnson
Tue Mar 12th, 2013
9:00 AM - 5:00 PM


Overview

Understanding how to leverage .NET to design a secure architecture with solid secure coding principals is critical to application security. This course combines tried and tested information security principals with secure coding principals to help you build rock solid applications.

Topics

Architecture

Defense in depth
Least Privilege
Thread Safety
Structured Exception Handling
Application Logging and Auditing
Secure Coding Principals
ASP.NET Handlers, Modules and the HTTP Pipeline

NET Encryption Services

Encryption Principals
Securing communications
Protecting data at rest

DEV544.4: .NET Framework Security
James Jardine, Eric Johnson
Wed Mar 13th, 2013
9:00 AM - 5:00 PM


Overview

Starting off with covering Threat Modeling, the day quickly shifts into how the information provided over the past 3 days fits into the SDLC. We will take a look at each phase of the SDLC and discuss how security fits into the process. You will get the opportunity to review code from an open source application to identify security flaws and write the code to remediate them.

Topics

Threat Modeling
Security and the SDLC
Secure Code Review
Static and Dynamic Analsys Tools
Secure Coding
Fixing weaknesses in a running application

Additional Information

Laptop Required

Supported Operating Systems

To complete the labs in class, the following Operating System is supported. Additionally, Internet Information Services should be installed as well.

Windows 7 with Internet Information Server 7.0

Laptops must be pre-installed with the following Software

Visual Studio IDE

If choosing Visual Studio Express Editions you must install both:

Visual C# 2010 Express Edition AND
Visual Web Developer 2010 Express Edition (at least Version 10.0.40219.1 SP1)

* Please note that the SQL Server that is installed with this application is not R2. R2 must be installed separately. It is required to use the Upgrade option (if it exists) if performing this after the installation of Web Developer 2010 Express.

For retail versions of Visual Studio, just:

Visual Studio 2010 Professional or better, C# language support required
The MSDN Library for Visual Studio 2010 is optional but recommended.

Database Server Software

SQL Server 2008 R2 Express Edition* (The start menu should show "Microsoft SQL Server 2008 R2" as an option)

The Express Edition of SQL Server works best in this lab environment. While the Developer, Standard, or Enterprise editions of SQL Server will work, they may require additional manual configuration.

Other Required Software

Other Installation Options: Virtual Machine

Installing all of the above on a virtual machine is a supported configuration provided there is enough RAM available on the host operating system to make available to the development image.

NOTE: Have the operating system CD (or ISO) with you at class as well as any other media in case your system has issues.

If you have additional questions about the laptop specifications, please contact laptop_prep@sans.org.

Who Should Attend

This class is focused specifically on software development but is accessible enough for anyone who's comfortable working with code and has an interest in understanding the developer's perspective:

Software developers and architects
Senior software QA specialists
System and security administrators
Penetration Testers

Prerequisites

Experience with programming in ASP.NET using either Visual Basic or C#. All class work will be performed in C#.
While this class briefly reviews basic web attacks, some prior understanding of issues such as XSS and SQL injection is recommended.