MGT535: Incident Response Team Management
Sat, March 9, 2013
Since I am fresh out of college this was a definite eye opener. This course was very valuable in that it gives a view of most tools available for auditing networks.

This course brings hands-on and very relevant information for everyone establishing or being part of an incident response team.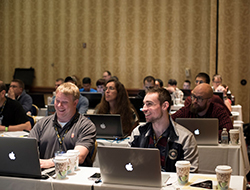 This course will take you to the next level of managing an incident response team. Given the frequency and complexity of today's attacks, incident response has become a critical function for organizations. Detecting and efficiently responding to incidents, especially those where critical resources are exposed to elevated risks, has become paramount, and to be effective, incident response efforts must have strong management processes to facilitate and guide them. Managing an incident response team requires special skills and knowledge. A background in information security management or security engineering is not sufficient for managing incidents. Furthermore, incident responders with strong technical skills do not necessarily become effective incident response managers. Special training is necessary.
This course was developed by an information security professional with over 26 years of experience, much of it in incident response. He was the founder of the first U.S. government incident response team. Students will learn by applying course content through hands-on skill-building exercises. These exercises range from: writing and evaluating incident response procedures, to the table-top validation of procedures, incident response management role playing in hypothetical scenarios, and hands-on experience in tracking incident status in hypothetical scenarios.
Introduction to incident response
Establishing requirements
Setting up operations
Communications
Making operations work
Legal and regulatory issues
Training, education, and awareness
Course Syllabus
Additional Information
Students can bring any type of laptop with any type of word processing software and any type of calculator tool. There is no specific requirement for a particular operating system or office suite.
If you have additional questions about the laptop specifications, please contact laptop_prep@sans.org.
Information security engineers and managers
IT managers
Operations managers
Risk management professionals
IT/system administration/network administration professionals
IT auditors
Business continuity and disaster recovery staff
SEC504: Hacker Techniques, Exploits, and Incident Handling
MGT512: SANS Security Leadership Essentials for Managers with Knowledge Compression√ʬ¬Ę
MGT519: IT Security Strategic Planning, Policies and Leadership
FOR408: Computer Forensic Investigations - Windows In-Depth
Author Statement
Author Statement
I've developed this course because of the critical importance of good management in incident response efforts. As management goes, so do these efforts. I've learned much about incident response management from having formed and managed incident response teams and from helping many organizations start or improve incident response efforts. I've taken the knowledge and skills I have gained and incorporated them into this course. - Eugene Schultz, Ph.D
Dr. Schultz passed away Oct 2, 2011. Though I do not have his level of experience, I was asked by the white house to handle national cyber response issues for Y2k and founded the incident response team that preceded the Internet Storm Center. More importantly, we have asked incident response managers from the community to help up keep this course up to date and relevant. The author royalties from this course will be sent to the Schultz family. - Stephen Northcutt, President, The SANS Technology Institute.