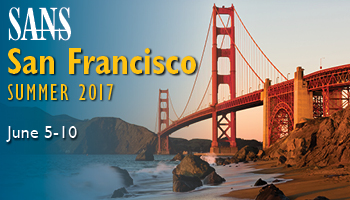 Cybersecurity Training in Northern California
Choose from 6 hands-on information security courses aimed at all types of professionals
Advance your career and develop skills to better protect your organization
Attend the keynote: "Stop Hitting Yourself" - Common Mistakes in Security Operations with Jake Williams
Information Security Training in San Francisco, CA
Join us at SANS San Francisco Summer 2017 (June 5-10), and take a first-hand look at why SANS is the most trusted source for information security training, certification, and research. Learn the skills needed to protect your organization and advance your career!
"The training teaches you the real-world skills, not just how to push a button." - Patrick Dunne, PwC
Take advantage of these opportunities to get the most out of your training:
Distinguish yourself as an information security leader by preparing for your GIAC Certification.
Network with like-minded security professionals facing similar challenges.
Attend evening bonus sessions led by SANS instructors and gain insight into the latest cybersecurity topics.
Extend your SANS course by four months with an OnDemand Bundle.
Discover the most effective steps to prevent cyber-attacks and detect adversaries with actionable techniques you can apply immediately when you return to work. Register today!
Download the SANS San Francisco Summer 2017 event brochure for general information, course descriptions, instructor biographies, bonus sessions and more.
"SANS training is the best bar none. Instructors are celebrities in their fields. I have completed seven courses and all of them have been top-notch." - Dow Shirley, ZAGG Inc.
To follow or tweet about this event, use hashtag #SANSSanFrancisco. Follow SANS at https://twitter.com/SANSInstitute