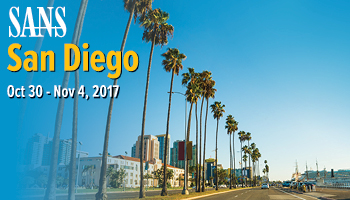 Security Training in San Diego, CA
Choose from 10 information security courses designed for all types of security professionals
Attend keynote: "Actionable Detects: Blue Team Cyber Defense Tactics" by Seth Misenar
NEW courses: SEC555: SIEM with Tactical Analytics and SEC503: Intrusion Detection In-Depth
Information Security Training in San Diego, California
SANS' instructors are innovative thought leaders teaching constantly updated, practical security techniques. Join us at SANS San Diego 2017 (Oct 30-Nov 4) and learn how to out-think and out-maneuver cyber adversaries with cutting-edge cyber security tactics.
"Real-world practical information and examples illustrating core concepts." - Michael Lazich, PayPal
Take advantage of these opportunities to get the most out of your training:
Distinguish yourself as an information security leader by preparing for your GIAC Certification.
Challenge your skills during two nights of Cyber Defense NetWars Tournament - Nov. 2-3 (FREE with any 4-6 day SANS course registration).
Network with like-minded security professionals facing similar challenges.
Attend evening bonus sessions led by SANS instructors and gain insight into the latest cyber security topics, including DeepBlueCLI and the dark web.
Extend your SANS course by four months with an OnDemand Bundle.
SANS is recognized around the world as the best place to develop the deep, hands-on cyber security skills most needed right now. Register today for immersion training that will provide you with the skills to defend your organization against security breaches and prevent future attacks.
"This training was significantly more intense and educational than any security training I had previously attended. Great material!" - Alexandra Blosser, Booz Allen Hamilton
To follow or tweet about this event, use hashtag #SANSSanDiego. Follow SANS at http://twitter.com/SANSInstitute