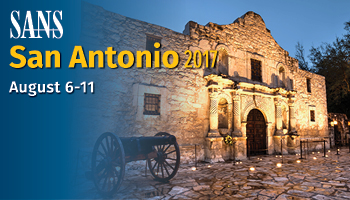 Train in historic San Antonio
Choose from 7 of SANS Institute's most popular training courses
Advance your career and develop skills to better protect your organization
Meet and network with like-minded security professionals facing similar challenges
Information Security Training in San Antonio, TX
Success in information security requires committing to a career of learning, from fundamentals to advanced techniques, because the field is continually evolving. To put you on this learning path, join us at SANS San Antonio 2017 (August 6-11), featuring industry leaders addressing today's greatest cyber threats.
"The understanding of fundamentals of information security is crucial as information technology has become such an inherent part of everyday life." - Melody H., DOJ
Take advantage of these opportunities to get the most out of your training:
Distinguish yourself as an information security leader by preparing for your GIAC Certification.
Network with like-minded security professionals facing similar challenges.
Attend evening bonus sessions led by SANS instructors and gain insight into the latest cybersecurity topics. Keynote will be "Everything You Ever Learned About Passwords Is Wrong" by Keith Palmgren.
Extend your SANS course by four months with an OnDemand Bundle.
Discover the most effective steps to prevent cyber-attacks and detect adversaries with actionable techniques you can apply immediately when you return to work. Register today!
"The practical expertise of the SANS staff presenting the training at this event was exceptional, and added significant value to the materials covered through direct references to real-world situations." - Daniel W. Nagala, UTSI International Corporation
To follow or tweet about this event, use hashtag #SANSSanAntonio. Follow SANS at http://twitter.com/SANSInstitute