Lethal Digital Forensics
Sun, February 24 - Mon, February 25, 2013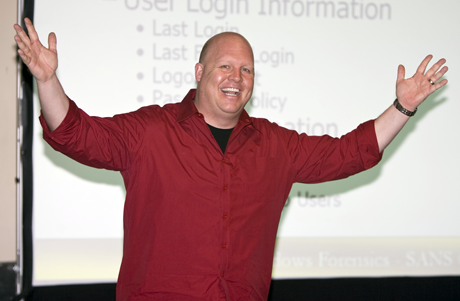 Over the past two years, we have seen a dramatic increase in sophisticated attacks against nearly every type of organization. Economic espionage in the form of cyber-attacks, also known as the Advanced Persistent Threat (APT), has proven difficult to suppress. Attackers from Eastern Europe and Russia continue to steal credit card and financial data resulting in millions of dollars of losses. Hackivist groups attacking government and Fortune 500 companies are becoming bolder and more frequent.
Sophisticated hackers can advance rapidly through your network using advances in spear phishing, web application attacks, and custom malware. Incident Responders and Digital Forensic Investigators must master a variety of operating systems, investigative techniques, incident response tactics, and even legal issues in order to combat challenging intrusion cases across the enterprise.
Attackers will use anti-forensic techniques to hide their tracks. They use rootkits, file wiping, timestamp adjustments, privacy cleaners, and complex malware to hide in plain sight and avoid detection by standard host-based security measures. Every action that adversaries make leaves a trace; you merely need to know where to look.
Our adversaries are good and getting better. Are we learning how to counter them? Yes we are. Learn how.
Lethal Digital Forensic Techniques and Memory Analysis will give you the tools and techniques necessary to master advanced incident response, investigate data breach intrusions, find tech-savvy rogue employees, counter the Advanced Persistent Threat, and conduct complex digital forensic cases.
This course uses the popular SIFT Workstation to teach investigators how to investigate sophisticated crimes. SIFT contains hundreds of free and open source tools, easily matching any modern forensic tool suite. It demonstrates that advanced investigations and incident response can be accomplished using frequently updated, cutting-edge open source tools.
FIGHT CRIME. UNRAVEL INCIDENTS... ONE BYTE AT A TIME.
Course Syllabus
Section 1: Lethal Digital Forensics Techniques
---
Overview
Timeline analysis will change the way you approach digital forensics... forever.
Learn advanced analysis techniques uncovered via timeline analysis directly from the analysts that pioneered timeline analysis tradecraft. Temporal data is located everywhere on a computer system. Filesystem modified/access/creation/change times, log files, network data, registry data, and, Internet history files all contain time data that can be correlated into critical analysis to successfully solve cases. Pioneered by Rob Lee in 2001, timeline analysis has become a critical investigative technique to solve complex cases. New timeline analysis frameworks provide the means to conduct simultaneous examinations of a multitude of time-based artifacts. Analysis that once took days now takes hours.
Over the past 3 years, a renaissance has occurred in tool development for timeline analysis. SANS has spearheaded research and development by sponsoring some of the newly created tools such as log2timeline. As a result of recent developments, many professionals now turn to timeline analysis as one of their core tools and capabilities. This section will step you through the two primary methods of creating and analyzing timelines created during advanced cases. Exercises will not only show each analyst how to create a timeline, but introduce key methods to use them effectively in their cases.
Topics
Timeline analysis overview
Timeline benefits
Prerequisite knowledge
The Pivot Point
Timeline context clues
Timeline analysis process
Filesystem timeline creation and analysis
MACB meaning by file system (NTFS vs. FAT)
Rules of Windows timestamps for $STDINFO and $Filename
Windows time rules (file copy vs. file move)
File system timeline creation using Sleuthkit and fls
Bodyfile analysis and filtering using the mactime tool
Super timeline creation and analysis
Super timeline artifact rules
Program execution, file knowledge, file opening, file deletion
Timeline creation with log2timeline
log2timeline input modules
log2timeline output modules
Filtering the super timeline using l2t_process
Targeted super timeline creation
Automated super timeline creation
Super timeline analysis
Section 2: Memory Analysis
---
Overview
Memory forensics has come a long way in just a few years. It can be extraordinarily effective at finding evidence of worms, rootkits, and advanced malware. While traditionally the sole domain of Windows internals experts, recent tools now make memory analysis feasible for anyone. Better interfaces, documentation, and built-in detection heuristics have greatly leveled the playing field. This section will introduce some of the newest free tools available and give you a solid foundation in adding core and advanced memory forensic skills to your security armory.
Topics
Memory acquisition
Acquisition of system memory for both Windows 32/64 bit systems
Hibernation and pagefile examination
Memory analysis
Memory analysis techniques with Redline
Identify rogue processes
Analyze process DLLs and handles
Review network artifacts
Look for evidence of code injection
Check for signs of a Rootkit
Acquire suspicious processes and drivers
Live memory forensics
Advanced memory analysis with volatility
Memory registry examinations
Memory Timelining
Memory event log parsing