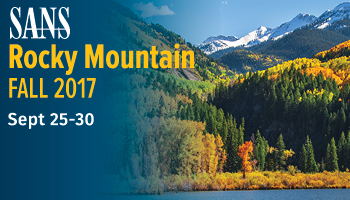 Cyber Security Training in Denver
Choose from five information security courses taught by real-world practitioners
Attend the Keynote: "Infosec State of the Union" by Jake Williams
Accelerate your career with hands-on, immersion-style training
Information Security Training in Denver, CO
Join us for SANS Rocky Mountain Fall 2017 (Sept 25-30), and take a first-hand look at why SANS is the most trusted source for information security training, certification, and research. Learn the skills needed to protect your organization and advance your career!
"The training offered at SANS is the best in industry and the SEC504 course is a must for any IT security professional - highly recommended." - Michael Hoffman, Shell Oil Products US
Take advantage of these opportunities to get the most out of your training:
Distinguish yourself as an information security leader by preparing for your GIAC Certification.
Network with like-minded security professionals facing similar challenges.
Attend evening bonus sessions led by SANS instructors and gain insight into the latest cyber security topics, including the dark web and IPv6.
Extend your SANS course by four months with an OnDemand Bundle.
Discover the most effective steps to prevent cyber-attacks and detect adversaries with actionable techniques you can apply immediately when you return to work. Register today!
"The material is very relevant to real world environments and has information that can be used immediately to harden and secure an environment." - Michael Coyne, Amazon Web Services
To follow or tweet about this event, use hashtag #SANSRocky. Follow SANS at http://twitter.com/SANSInstitute