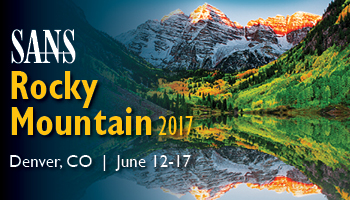 Train in beautiful Colorado at SANS Rocky Mountain 2017
Choose from 10 information security courses
Challenge your skills at the CORE NetWars Experience
Join the keynote with Rob Lee: Welcome Threat Hunters, Phishermen, and Other Liars
Information Security Training in Denver, CO
Download the SANS Rocky Mountain 2017 Event Brochure for general information, course descriptions, instructor biographies, bonus sessions and more.
Take a first-hand look at why SANS is the most trusted source for information security training, certification, and research and join us in Denver for SANS Rocky Mountain 2017 (June 12-17). You'll learn the skills needed to protect your organization and advance your career!
Take advantage of these opportunities to get the most out of your week:
Distinguish yourself as an information security leader by getting GIAC Certified.
Extend your SANS course by four months with an OnDemand Bundle.
Challenge your skills during two nights at the CORE NetWars Experience.
Network with like-minded security professionals facing similar challenges.
Join us at the Embassy Suites Denver Downtown Convention Center, the gateway to Denver's lively downtown scene. A discounted rate of $205 is available through May 19.