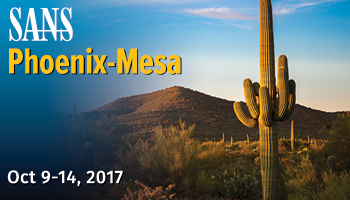 Cyber Skills Training in Arizona
Choose from seven information security courses taught by world-class instructors
Learn immediately applicable security skills
Attend keynote: "If I Wake Evil!!!" by John Strand
Information Security Training in Mesa, Arizona
At SANS Phoenix-Mesa 2017 (Oct. 9-14), improve your IT security skills, and stay ahead of the cyber adversaries who seek to harm your organization's assets. Learn from industry leaders teaching critical information and practical techniques in cyber defense, pen testing and security management to professionals on the front lines of cyber security.
"Perfect combination of lab, lecture and personal experience." - Valerie Hufford, Deloitte
Take advantage of these opportunities to get the most out of your training:
Distinguish yourself as an information security leader by preparing for your GIAC Certification.
Network with like-minded security professionals facing similar challenges.
Attend evening bonus sessions led by SANS instructors and gain insight into the latest cyber security topics, including HTTP2 and ransomware.
Extend your SANS course by four months with an OnDemand Bundle.
Protect your organization and get the training you need to advance your career. Register today!
"SANS training opens your eyes to specific impacts of attacks and ways to prevent." - Paul Gienger, Border States Electric
To follow or tweet about this event, use hashtag #SANSMesa. Follow SANS at http://twitter.com/SANSInstitute